---
1964
IT'S ALL OVER NOW * THE VALENTINOS * SAR 152 * USA
The Valentinos were brothers Bobby, Cecil, Curtis, Friendly Jr. and Harris Womack they signed to Sam Cooke's Sar label in 1961 and their first records were as The Womack Brothers.
Written by Bobby and Shirley Womack It's All Over Now was a popular dance record in London after its release in the USA - the cover version by The Rolling Stones was NEVER played in Mod dance halls and clubs, not least because you couldn't dance the Block to it.
It's All Over Now was the pen ultimate release on Sar, released the same year as Sam Cooke's extraordinary murder in a motel, though the title of the record has no relation to his death, and the subsequent demise of the label which ran for only five more issues.
Although never released in the UK at the time it was, due to an undiminished demand since it first surfaced, released four years later on the Soul City label (see below).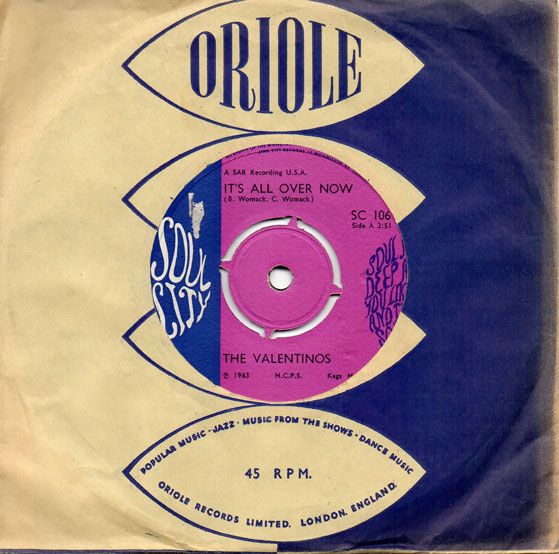 IT'S ALL OVER NOW * THE VALENTINOS * SOUL CITY 106 * UK
---
RETURN TO THE SOUL GROUPS PAGE