---
1968
LET THE SUN SHINE IN (THE FLESH FAILURES) * ANTHONY AND THE IMPERIALS * UNITED ARTISTS 2260 * UK
This song, taken from the musical Hair, marks a departure in Soul music in that until around this time it had been very much a self sufficient entity, and while Soul singers and musicians had taken into account the Pop music of the Beat and Surf groups there had not been any significant move to occupy those, and other genres. With the advent of Psychedelic and Progressive Rock, overriding all other popular white musical styles, the course of Soul music, for a time, seemed to bifurcate; what had been known as Soul appeared to go underground and almost disappear, while a new strand, later to be known as Funk, Disco, and even Jazz Funk, moved into the arena of the dominant White Rock scene; Jimi Hendrix and George Clinton being two prime examples. Even the Blues had succumbed to this situation, with the likes of Howlin' Wolf and Muddy Waters paying lip service to these White Rock genres, but it was in the area of Soul that saw the biggest shift. Many groups, like the Isly Brothers, The Chambers Brothers, The Temptations, even the Coasters were seen to be got up in psychedilia and 'doing' psychedelic numbers with long alienating guitar intervals. The above is clearly a foray into the psych-lite genre, but, possibly because it was written for a musical, manages to carry itself as a big orchestra and choir sounding Soul cut of old.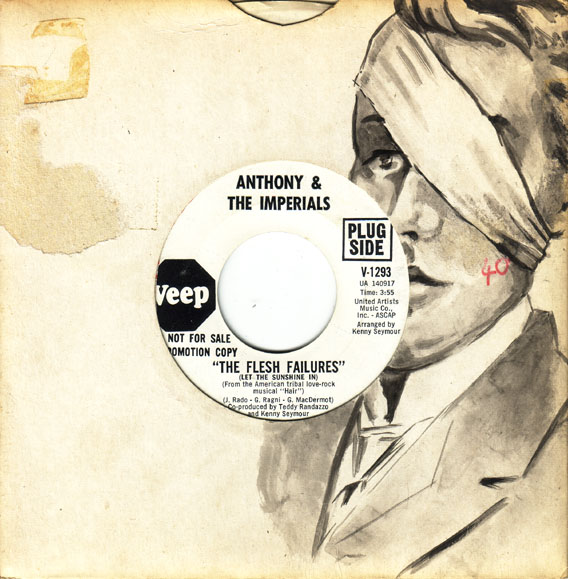 THE FLESH FAILURES (LET THE SUN SHINE IN) * ANTHONY & THE IMPERIALS * VEEP 1293 * USA
A different title and a completely different cut on the American version.
For Little Anthony see also:
---