The Blind Boys Of Alabama can do no wrong, click the record and listen.
---
1961
MY GOD CAN DO NO WRONG * THE BLIND BOYS OF ALABAMA * GOSPEL 1053 * USA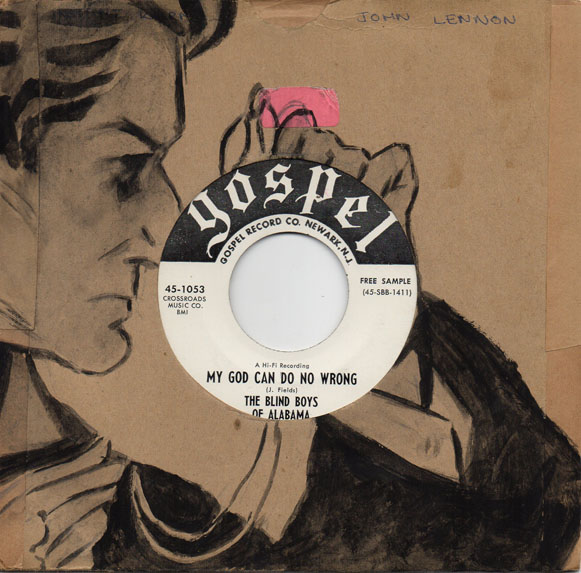 Whatever your 'God' is, if you have one, be it The Man in the Bible, Marx, Money, Love, Nature, Art, Sex, Sun, and etc; or just yourself this record is a killer. It shows that with a little passion, talent and belief, what can be achieved, which, in the case of My God Can Do No Wrong is a profound and exquisite beauty that touches the mind and soul of the listener.
As children The Blind Boys Of Alabama: Clarence Fountain, Jimmy Carter, Johnny Fields, George Scott, Velma Bozman Traylor, Olice Thomas, and J.T. Hutton (the only sighted member), first sang together in the glee club in 1944 at the Alabama Institute for the Blind in Talladega, Alabama. Their debut I Can See Everybody's Mother But Mine was for Vee Jay in 1948 In 1948.
A subsidiary label of Savoy Gospel Records ran from 1958 to the early 1970s, My God Can Do No Wrong is seen here on a 'Free Sample' issue, the stock colors of the label from this period were green and gold.
---