---
1965
PEOPLE GET READY * THE IMPRESSIONS * HIS MASTERS VOICE 1408 * UK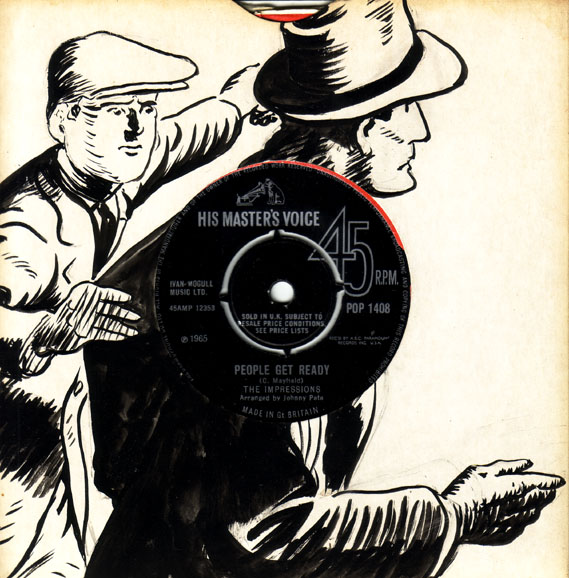 An enduring Soul song that can be read either as a Gospel inspired tune or a song of hope for the Civil Rights Movement - very much the theme of many of Curtis Mayfield's songs at the time.
Writing this on the day of the American presidential elections when a black man is on the verge of becoming, quite literally, the most important and powerful political figure in the world, it seems that the hopes and aspirations embodied in these and other records have finally come to fruition.
It is said that the song was written as a response to the 1963 'Great March On Washington' on Aug. 28, 1963, where the Rev. Martin Luther King's gave his famous "I Have a Dream" speech before a crowd of over 250,000 people.
People Get Ready has been named by Rolling Stone magazine as the 24th greatest song of all time (a fairly arbitrary value it seems to me); which shows, at least, something of the effect the record has had since its release.
Of course the struggle for justice and equality will go on and songs will carry on reflecting this, but the question is this:
If Barack Obama wins the election and becomes the 44th President of America, and by so doing negates, symbolically at least, all the centuries of negative belief and pessimism, all the generations of optimistic hope built on dreams and positive conviction, and all the unrecorded histories of unrelenting struggles, big and small, of countless souls, will the political message in this, and countless other similar songs, then become, at a stroke, obsolete?
See also:
---