---
1963
PUDDIN N' TAIN * THE ALLEY CATS * PHILLES 108 * USA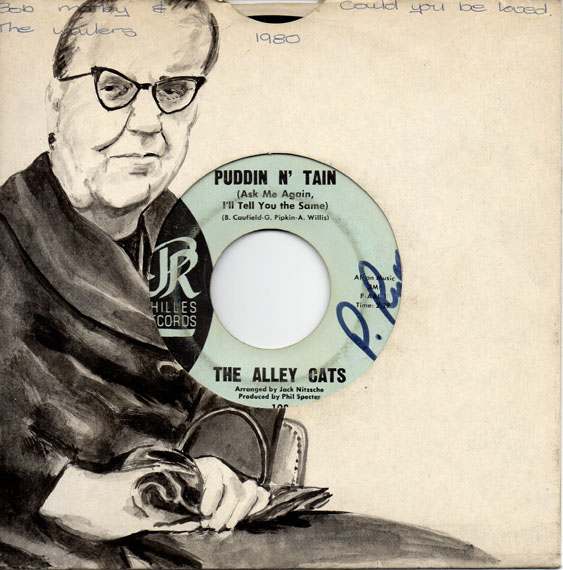 Produced by Phil Spector, Puddin N' Tain - something of a novelty song - is an up tempo Doo Wop / Soul cut very much in the vein of an earlier Spector production Bob B. Soxx and the Blue Jeans Zip-A-Dee-Doo-Dah.
The Alley Cats were an all-male vocal group: Brice Coefield, Gary Pipkin, James Barker and Rip Spencer (and or Billy Storm) from Los Angeles, and previously known as The Untouchables had recorded for Keen and Madison. They cut Puddin N' Tain in 1962 and it became a minor hit reaching #21 on the R&B charts and #43 Pop; in 1963; unfortunately Spector never recorded the group again after this.
The obscure title of this song is not made any clearer on hearing the lyrics, it would seem that, according to one source, Puddin N' Tain "is a play on the name of an Irish high chief who was known as the Tain with his specific name in front of it. The Puddin" Tain was someone of not royal status but someone who had pretentions and was derided with the name high King of the Puddings. Later it became a Children's rhyme of Scots-Irish origin."
Yet another explanation goes:
"The original quote is from (I believe) a short story called "The King of Boyville" from the book The Real Issue by William Allen White in 1896. The quote is:

When a new boy, who didn't belong to the school, came up at recess to play, Piggy shuffled over to him and asked him gruffly: "What's your name?" "Puddin' 'n' tame, ast me agin an' I'll tell you the same," said the new boy, and then there was a fight.
And another explanation:

Probably from people hearing poont*ng (and perhaps not knowing what it meant) and converting that into something a little more recognizable. That would also explain why the phrase is only used as a proper name in those quotes. No one knew quite what to do with it other than that."
An alternative set of lyrics:
Confusion is my middle name
(Confusion is my middle name)
Ask me again I'll tell you the same
(Ask me again I'll tell you the same)
Persuaded by one sexy dame
No I don not feel no shame

You are on the road
Can I get a little lovin' fom you
Can I get a little bit of that done did do
You are on the road
Tell me now girl that you need me too
Tell me now girl 'cause I've got a feeling for you

What's your thing? Puddin Tame. Ask me again, I'll tell you the same.
(What's your thing?) Puddin Tame. Still the same, ain't nothin' changed.

Bridge:
Some like it in a bowl, some like it on a stick
Some like they Puddin nice and thin, but then some like it thick
No matter how you like it, I love my Puddin Tame
And if you ask me just one mo' gen, I'm still gon' say the same, uh!
---