---
1964
(JUST LIKE) ROMEO & JULIET * THE REFLECTIONS * STATESIDE 294 * UK
O Romeo, Romeo! wherefore art thou Romeo?
From the legendary "Balcony Scene," this is perhaps the most famous quotation from Shakespeare, and according to some Shakespearean scholars the scene, because of its romantic associations, is often misunderstood. Romeo's passion for Juliet is unambiguously erotic. To Elizabethans sexual desire was not antithetical to romance; it was the essence of romance.
The Reflections were thought, at the time, by many Soul fans in the UK, to be a Black Soul group and 'Romeo & Juliet' was a much played Mod dancer; it was originally released on Detroit's famous Golden World label # 9 (see below) in February 1964 and in the UK on 22nd May that same year.
Although it is an uplifting and optimistic song, this sexuality is not reflected in the above record. Romeo & Juliet was the groups fifth release as The Reflections, and their first for Golden World; they had eight other releases on the imprint.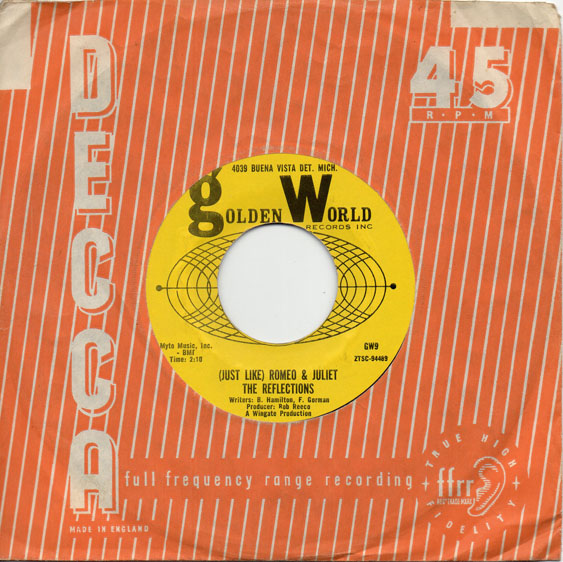 (JUST LIKE) ROMEO & JULIET * THE REFLECTIONS * GOLDEN WORLD 9 * USA
---