---
1960
SAVE THE LAST DANCE FOR ME * THE DRIFTERS * LONDON 9201 * UK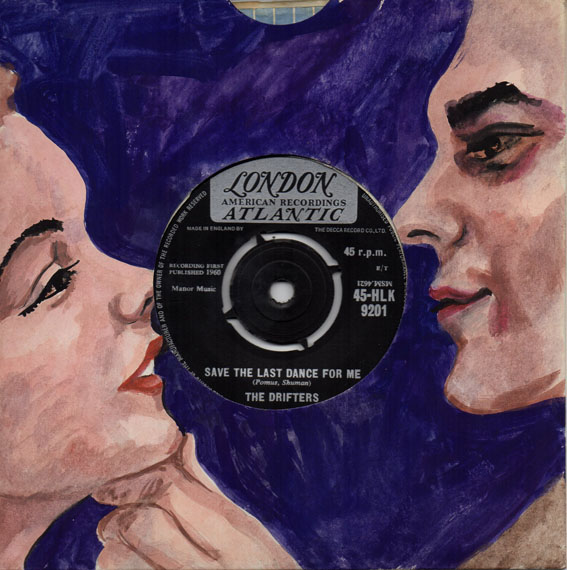 Because Save The Last Dance For Me has been so popular with a diverse audience (apparently it's one of the 25 most popular songs ever recorded) which has led to it being played so many times in so many different contexts, it has, over time, become almost inaudible to many Soul music fans. Ironically it has gained that popularity and evergreen quality simply because it is such a good record, and hopefully now with some distance it can be heard again for what it is: a fine early Soul group record.

Save The Last Dance For Me has a Cubano-Ricano rhythm and features the warm and plaintive baritone voice of Ben E. King singing lead, with Charles Thomas, Doc Green and Ellsbury Hobbs; and was written and produced by Doc Pomus and Mort Shuman, but what makes this recording so much more poignant is the story of how Doc Pomus aka Jerome Solon Felder, who was married to an attractive blond woman who loved to dance but because of having polio as a child he was unable to walk unaided, let alone dance, so would have to sit by watching many a capable suitor dance with his lovely bride. Rather than turn what must have been a trial into an ulcer he wrote the words to this song and possibly exorcized all the pain and frustration, transforming it into a thing of beauty. Knowing his condition this also brings into sharp focus other songs he wrote like Somebody New Dancin' With You and makes them seem sadly poignant.

Save The last Dance has been covered by various artists from The Sputnics to Buck Owens, The Heptones cut a Reggae version for Joe Gibbs in 1972 (see below). Pomus and Shuman also wrote a little known, considering the success of its predecessor, 'answer' record I'll Save The Last Dance For You which was recorded by Damita Jo for Mercury records

(see below) .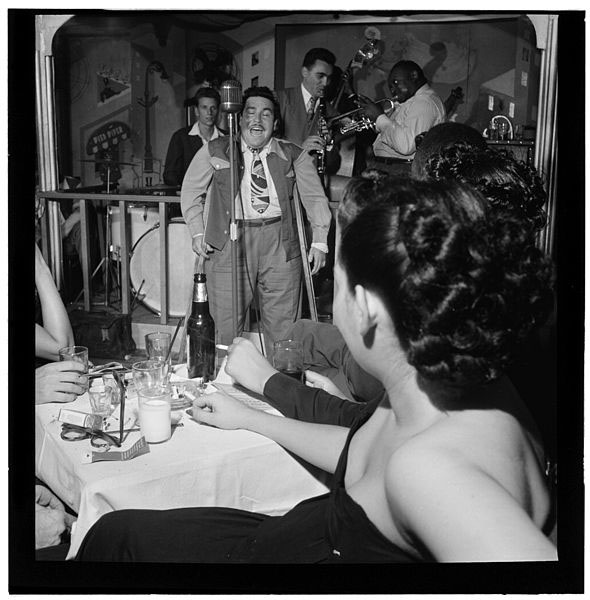 Doc Pomus singing with Uffe Bode, Sol (Solomon) Yaged, John (O.) Levy, and Rex William Stewart, Pied Piper, New York, N.Y., Sept. 1947.
Photo: William P Gottlieb.
******************************************************************************************************************************************************************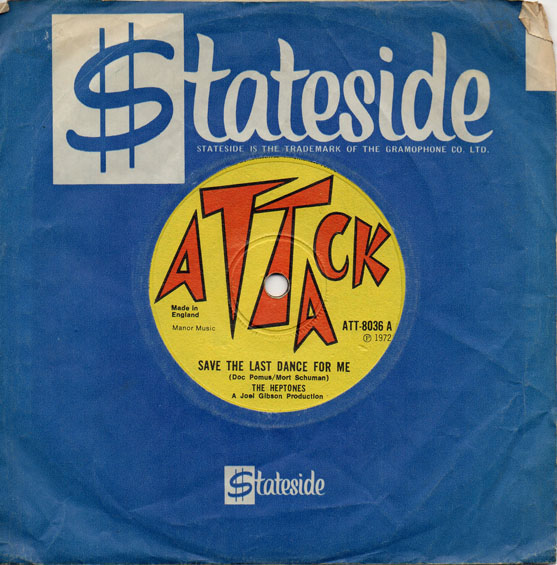 SAVE THE LAST DANCE FOR ME * THE HEPTONES * ATTACK 8036 * UK
I'LL SAVE THE LAST DANCE FOR YOU * DAMITA JO * MERCURY 1116 * UK
******************************************************************************************************************************************************************
See also:
---