---
c1963
SPRING * BIRDLEGS & PAULINE AND THEIR VERSATILITY BIRDS * VEE JAY 510 * USA
I have no idea who Birdlegs and Pauline are or their 'Versatility Birds' (though I like the sound of them). Birdlegs and Pauline don't seem to have released anything else on Vee Jay, or any other independent, which is odd and a shame because this is a top track, if somewhat left field, something akin to Sea Of Love. Given it's apparent uniqueness of the record it's both extraordinary and fortunate that it was released in GB in the mid 1960s on the Sue label.
Since writing the above.
Mail from Mike Brunette
7 Dec 2007
From the liner notes of that album: "This twosome has reached wonderful success in the entertainment world. It started back in 1956 when, after winning many talent contests, Birdlegs (we call him "Bird" -- Pauline calls him "Legs" but his real name is Sidney Banks) and Pauline decided to give it a try and went "pro." A good friend of Pearl Bailey, Pauline worked many of the famous clubs in the north part of Chicago, and Birdlegs worked many of the southside clubs such as Swingtown, Kirkeys, The Place and on the westside Happy Home, The Squeeze Club and Mel Hideaway. It was the idea of Shakey Jake, then a musician (now a minister) that the two should work together. The top blues DJ in Milwaukee, O.C. White, discovered the two while listening to recordings made at Cuca Records, resulting in the Cuca release, "Spring" b/w "In So Many Ways." Abner, then with Vee Jay, showed his interest in the record and the masters were leased to Vee Jay for nation-wide distribution. Only a few weeks and "Spring" was a hit, climbing its way up on Billboard, Cashbox, Music Reporter and Music Vendor charts." The liner notes also list the musicians who played on the recordings, including Floyd Murphy on guitar.
I am the director of the morning newscast on WIFR-TV in Rockford, IL. A few years ago, we asked our viewers to send us CDs of local bands and we would feature them on our show. Most of the CDs we got were from currently active bands, many unsigned who had made their own demos. But one disc we got was special. With the Birdlegs and Pauline CD was a note that Sidney Banks actually lived in Rockford. They included the information that the song "Spring" had been a minor hit, reaching #18 on the R&B chart. We all listened to the disc and loved it (my favorite songs being "Tell Me, Tell Me Why" and "Suffer"), so we began featuring it quite regularly on our show. One day our weather guy was doing a live shot at a local diner, when Birdlegs himself walked in. He talked about the old days, how that record got made and what he'd been doing since (though I don't recall much of that).
Thanks Mike.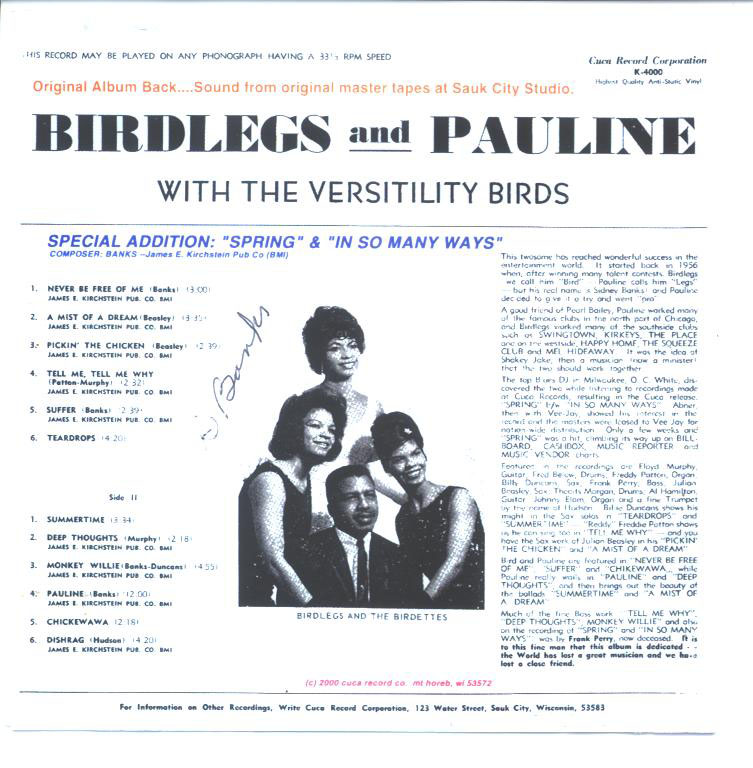 ---