---
1963
TANGO * THE ISLEY BROTHERS * UNITED ARTISTS 1034 * UK
The Isley Brothers at this time were Ronald Isley, Rudolph Isley, O'Kelly Isley, their debut on wax was for Bill Gordon and Ben Smith's New York based 'Teenage' label #1004 in 1957. They only had the one release for Teenage ( the label only run for ten issues) before moving up to the bigger outfit at Mark - X, one of the many labels owned and run by George Goldner, after many more labels and some 20 more hits (and dire misses) they signed for United Artists.
Written by The Isley's and produced by Burt Burns Tango was the groups debut release on United Artists #605 in the US (see below) a big dance hall style 'dancer' it was released in the UK in October 1963 and, although a flop in America it was favorite with the the Modernist's in the big Mecca dance halls in and around London.
United Artists was one of the few labels that had the same, or very similar, graphics both in the USA and the UK.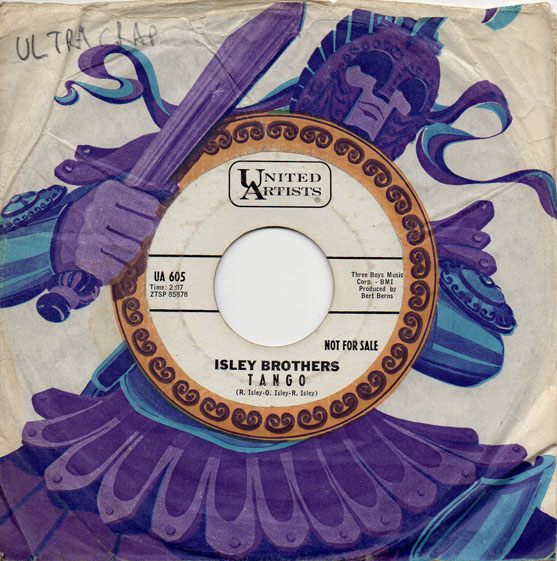 TANGO * ISLEY BROTHERS * UNITED ARTISTS 605 * USA
See also Shout
---