---
1957
C. C. RIDER * CHUCK WILLIS * ATLANTIC 1130 * USA
Harold 'Chuck' Willis toped the R&B charts with C. C. Rider; and, because of its beat, it was linked to the latest fad dance 'The Stroll'. In consequence Chuck Willis was named 'The King of the Stroll', the type of ephemeral epithet that can be more of an hindrance than an asset in the fickle world of the record buying public.
Recorded with: James Harris (trumpet) Gene Barge, Sam Taylor (tenor saxophone) Phil Kraus (marimba) unknown (piano) Al Caiola, Roy Gaines (guitars) Lloyd Trotman (bass) Panama Francis (drums) Elise Bretton, Robert Miller, Marcia Nell, Myriam Workman (backing vocals) Jesse Stone (conductor) in NYC, January 31, 1957, a year before his untimely death.
C. C. Rider was released in the USA 8th March 1957, and proved to be his biggest hit, selling well in both the Pop and R&B markets. It was his first release, of only five British 45's, in June 1957 (see below).
C. C. Rider was first recorded by Gertrude Ma Rainey c1925, as See See Rider Blues, but as a song goes back further than that. Along with W. C. Handy's St. Louis Blues, See See Rider is one of the most famous of Blues songs of all time with over 100 Blues recordings alone, it was recorded by countless artists since in almost every genre, including a Reggae version by harmonica player Roy Richards who sings on a Coxsone Dodd produced cover from the mid 1970s (see below).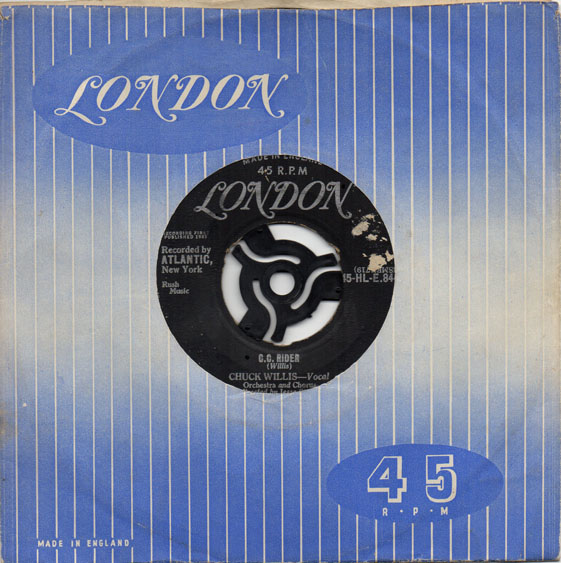 C. C. RIDER * CHUCK WILLIS * LONDON 8444 * UK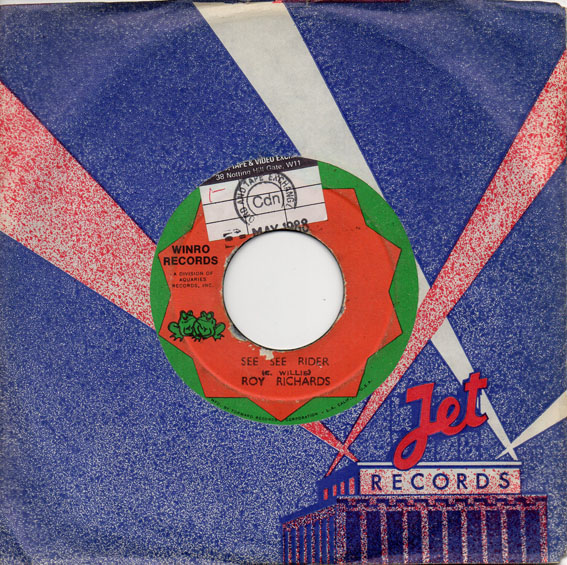 SEE SEE RIDER * ROY RICHARDS * WINRO * JA
See also:
---