Click on the record to hear.
---
1956
DOWN HOME SPECIAL * BO DIDDLEY AND HIS BAND * CHECKER 850 * USA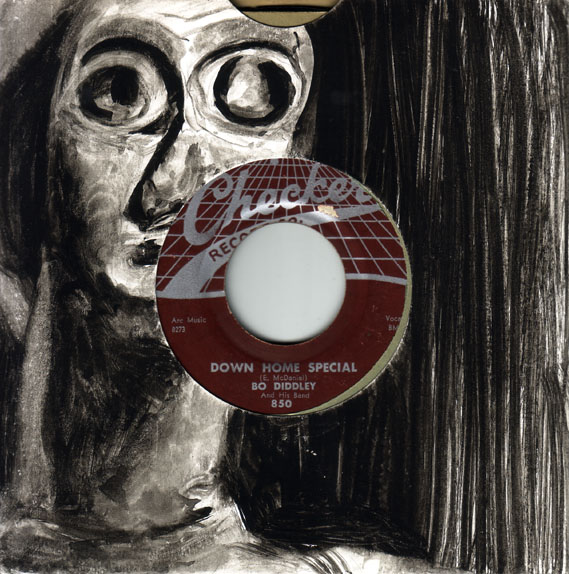 Recorded in Chicago October 1956: Down Home Special, renamed Down Home Train on latter issues and also known as I'm Going Home, was Bo Diddley's sixth release on the mighty Checker label. Sandwiched in between two other brilliant and unique Bo Diddley releases: the audacious and compelling Who Do You Love and the strange atmospheric sound of Mona, Bo hit out in yet another direction with this mesmeric and ambiguous cut.
With Willie Dixon on bass; Clifton James or Frank Kirkland on drums and Jerome Greene playing those incredibly electrifying maracas, the song with its driving 'locomotive' rhythm, starts with a toot from a strangely romantic 'woody' sounding whistle, which toot's at intervals throughout the track and is often countered by a another sharp metallic sounding whistle, although jockey at the beginning seems to be, musically at least, about the anxiety and urgency of someone traveling by train desperate to be reunited with their love one.
In George White's biography of Bo Diddley, Bo talks about how he is always taking home found objects and interesting junk of all kinds and that he found the 'big whistle', with an end broken off, in a pile of stuff on the New York, Bowery.
The B side is a humorous cover of Boogaloo and his Gallant Crew's outstanding cut Cops And Robbers.
See also:
---