---
1959
KANSAS CITY * WILBERT HARRISON * TOP RANK 132 * UK
Vocalist and piano player Wilbert Harrison was born in Charlotte, North Carolina in 1929 and died sixty five years later in Spencer, North Carolina. He started out performing in the early 1950s in a Calypso style; something that, years later, was to lend itself to the lilting rhythm of the above - which nearly turned full circle when Kansas City was taken back to the West Indies and recorded by Joya Landis at the Treasure Isle studio.
Wilbert Harrison first recorded for the Rockin' label in 1953, after which he spent a time at Savoy, it was for Bobby Robinson's Fury label, with Wild Jimmy Spruill on guitar, that Harrison cut this version of Leiber and Stoller's Kansas City - the song was first recorded by Little Willie Littlefield in 1952 as K. C. Lovin - Harrison's version charted both R&B and Pop, which caused all sorts of problems as Harrison was still under contract with Savoy, though he hadn't recorded for them for some time.
There are over three hundred recorded versions of the song in all musical styles, five different versions were released that same year as Wilbert Harrison's #1 hit! making it one of the most successful of Leiber and Stoller's compositions. Two of the many examples are pictured below: Champion Jack Dupree's 1969 recording and the Fats Domino cut from 1964.
KANSAS CITY * CHAMPION JACK DUPREE * BLUE HORIZON 3152 * UK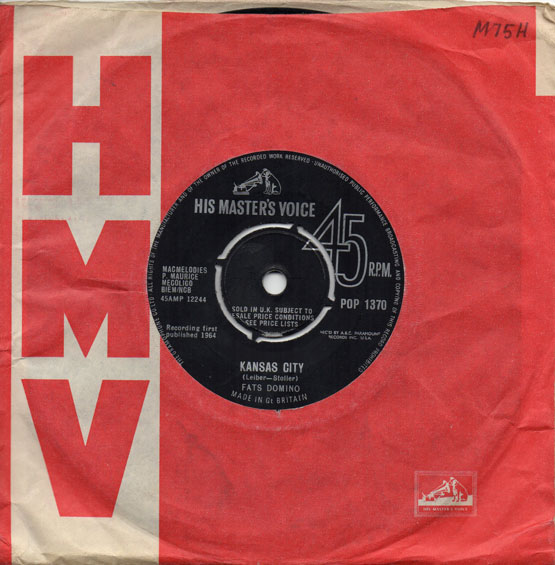 KANSAS CITY * FATS DOMINO * HIS MASTERS VOICE 1370 * UK
---