---
1940
LOW DOWN DIRTY SHAME BLUES * JOE TURNER * PARLOPHONE 2773 * UK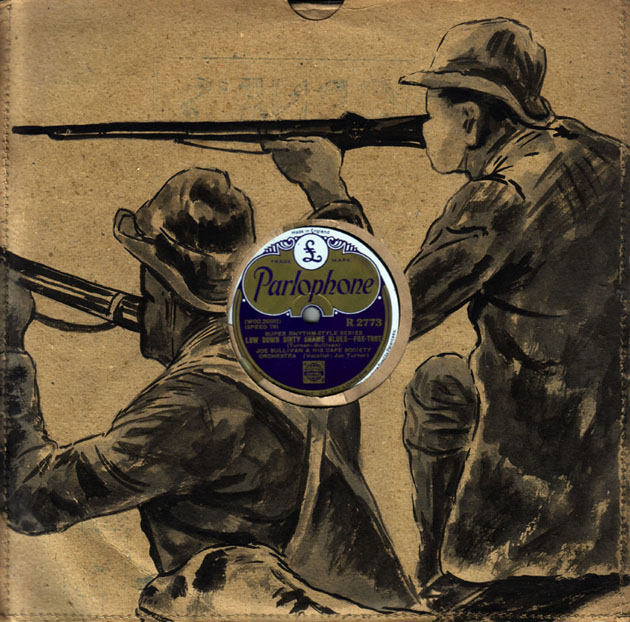 If any man had Rhythm in his Blues it was this man Joe Turner; known as 'Big' Joe Turner for his big boned physique he had been shouting and singing the Blues since he was in his teens - with the build of someone older he was able to work as a singing barman in his native Kansas City while still under age. after teeming up with piano player Pete Johnson in the early 1930s the pair eventually ended up in New York where in 1938 they appeared at the famous Spirituals to Sing concert at Garnegie Hall.
In the early 1940s Joe Turner recorded as featured vocalist with other musicians like Willie 'The Lion' Smith, Hot Lips Page and Freddy Slack. Issued as a B side the powerful Low Down Dirty Shame Blues recorded with piano player Joe Sullivan & His Cafe Society Orchestra was one such recording of the period.
The song, sung in the third person, is ostensibly about a lover who is down on his luck but it can quite easily be heard as a song about the plight of a poor (black?) man down on his luck.
Joe Turner, singing with empathy and compassion makes the observation that "while standing at his window he saw a poor boy walking in the rain", who "had been walking the streets all night long, until his feet were soaking wet."
Now I would imagine that the sight of poor and homeless black men walking the streets all night long, in the big cities across America, during this period was not uncommon, and it is uncertain how many of them were looking for their lovers!
See also:
---