---
1951
ROCKET 88 * JACKIE BRENSTON AND HIS DELTA CATS * CHESS 91012 * USA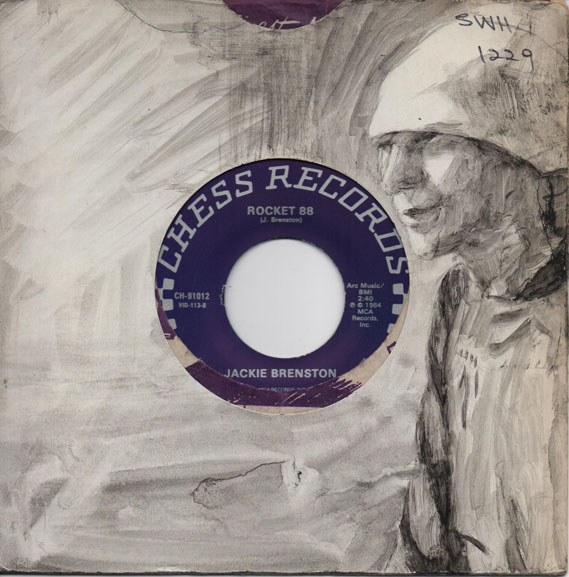 Originally released on Chess 1458, Rocket 88 has been reissued many times including the above early 1980's issue from MCA (who then owned the Chess catalogue) of this 'controversial' recording. I say controversial because for at least two reasons. One being the part Ike Turner is due credit for the recording - he can be herd playing the pounding piano - and secondly for the many debates by fans of Rock & Roll and R&B as to the recordings claim to be one of the first, if not the first Rock & Roll record.
Rocket 88, named after the Oldsmobile car of the same name, was written by Jackie Brenston, well more like adapted from Jimmy Liggins' 1947 Speciality recording Cadillac Boogie, and was produced by Sam Phillip, on March 3rd at 706 Union Avenue, Memphis, (a year before he opened his legendary Sun Studios) It was Ike Turner and His Kings of Rhythm who were booked for the recording and it was them who cut four sides that day two of which were vocals by Turner with Brenston playing second sax, Phillips sold them to the Marshall brothers at Chess who released two singles, one by Ike Turner and His Kings of Rhythm and the other, containing Rocket 88, by Jackie Brenston and His Delta Cats.
As to it's claim to be the first Rock & Roll record, well it seems that that claim stems mostly from the PR of one Sam Phillips looking to make a name for himself in the industry, which to be fair he did, since when many a learned aficionado of the music have cited other, earlier contenders for the title, such as: Rock The Joint by Chris Powell, Rock And Roll by Bill Moore, We're Gonna Rock by Bill Moore, Rockin' All Day by Jimmy McCracklin, and Rock That Boogie by Jimmy Smith.
---