---
1950
SAFRONIA B * CALVIN BOZE * ALADDIN 3055 * USA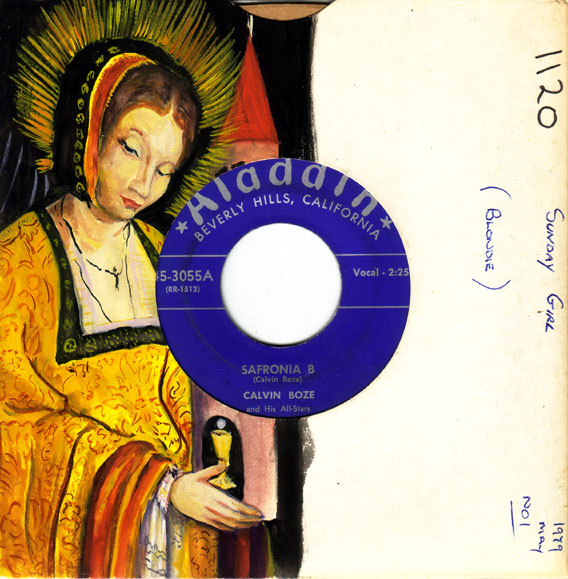 Calvin Boze - I always think of it as Booze, well his debut for Aladdin (#3044) was Waiting And Drinking and he also cut Stinkin' From Drinkin'!! - came from Houston, Texas, he sang and played trumpet and began recording in 1945. He signed for Aladdin in 1949 and, released in May 1950, Safronia B was his second on the label.
Known as Jump Blues the music he played was a brief but highly influential period in Popular music. Pioneered by the likes of Louis Jordan it came out of the pre WW11 Big Band Swing music and was the precursor to the Rhythm & Blues that was to so dominate the 1950s, in both the US and Jamaica.
Safronia B is a reworking of an earlier recording Saffronia Bee originally released on G&G 1029 in 1947 by Marvin Johnson and his Orch., with vocals by Calvin Boze!
Safronia B - for those not familiar with the word Safronia is a girls name peculiar to the USA - was a big hit, his biggest, and is seen on the above copy as a re-press probably from the mid 1950s.
---