---
c1957
SHAME, SHAME, SHAME * SMILEY LEWIS * IMPERIAL 5418 * USA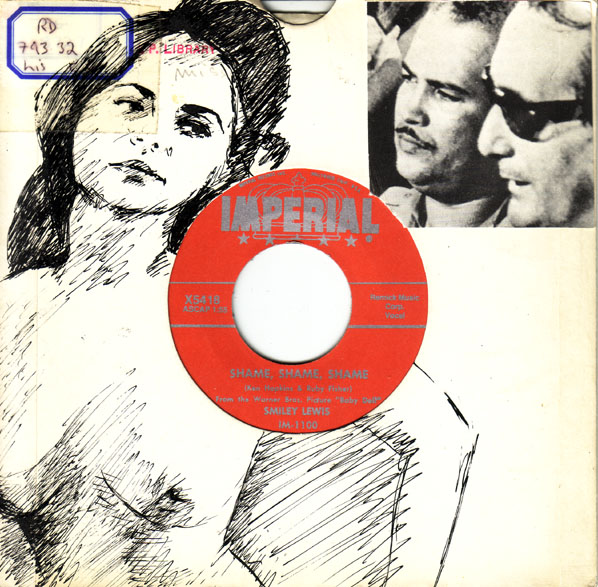 Smiley Lewis, born Overton Lemon, was, possibly, from Texas. This track was recorded in New Orleans, a city that played an influential role in the birth and development of R&B and Rock and Roll, so much so that during the 1950s the West Coast Imperial label set up recording studios there. Smiley's first recorded outing was in 1949 on the De-Luxe label, he was a prolific artist releasing scores of records, sadly very few were released in England, in fact only four were issued contemporaneously, 'Shame' was one of them. Shame, Shame, Shame, was also featured in the 1956 Elia Kazan film "Baby Doll".
"Just possibly the dirtiest American-made motion picture that has ever been legally exhibited..." Time magazine.
Between 1945 and 1957 Elia Kazan directed 10 critically acclaimed motion pictures "Gentleman's Agreement" "On the Waterfront" , "A Streetcar Named Desire" "East of Eden", and altogether 19 feature films between 1945 and 1976. At its annual Oscar ceremony March 21 1999 he was given, in what must be seen as a political move, an honorary award. Elia Kazan was one of the most prominent figures to turn informer during the anti-Communist witch hunts of the early 1950s. Kazan appeared on April 10 1952 and identified eight people who had been members of the Communist Party with him in the mid-1930s, along with certain party functionaries. His testimony damaged the careers and lives of a number of individuals and helped consolidate the so called Hollywood blacklist. It's ironic that treason - a form of grassing - is one of the most heinous crimes that a citizen can commit against his fellow countrymen, yet when it suits them grasses are rewarded by politicians and lawmakers, still those in political power have few, if any, morals, principles or scruples. The fact is that grasses can never be forgiven amongst the criminal fraternity, for understandable reasons.
---
RETURN TO MEN WITH RHYTHM & BLUES PAGE