Click on this record to play:
---
1959
THERE IS SOMETHING ON YOUR MIND * BIG JAY McNEELY BAND WITH LITTLE SONNY WARNER * TOP RANK 169 * GB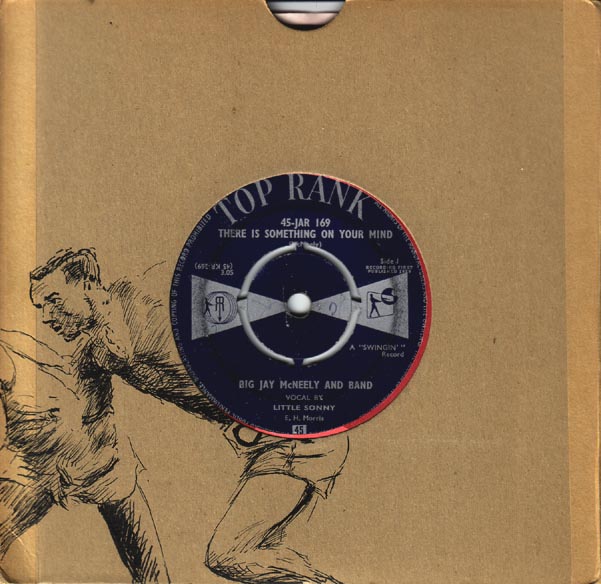 Little Sonny Warner started his musical career sing Gospel with The Four Sons, renamed The Rockets the group can be heard on their first records backing Henry Van Wallace on After Midnight (1952) and Open The Door (1953) Atlantic #980 and #988 respectively. Although he only received second billing on There Is Something On Your Mind this is in essence Little Sonny's first recording.
Originally released in America as the first record on the Swingin' label, Hollywood. Swingin' was jointly owned by the famous 1950s R&B dj Hunter Hancock, who's 'Harlematinee' program on radio KGFJ in Los Angeles, was better known as 'Huntin' with Hunter'. Hunter Hancock, old HH, was the most popular dj in the local black community, although he was a white man from Texas, but many of his listeners, during his two decade career, believed him to be black. As a tribute to his achievements in bringing the music of the black ghettos and housing projects to a wider audience, many artists included his name in the lyrics of their songs.
Given the popularity of There Is Something On Your Mind it's not surprising that there was an answer record; There Is Nothing On My Mind by The Teen Queens was penned by Jay McNeely and produced by The Platters manager/producer Buck Ram, and released on his own Antler label (see below).
THERE'S NOTHING ON MY MIND * THE TEEN QUEENS * ANTLER 4014 * USA
Since originally putting this page up in 2005 Little Sonny Warner has passed on. Read a full biography here.
---