---
1959
DEDICATED TO THE ONE I LOVE * THE SHIRELLES * SCEPTER 1203 * USA
Not The Shirelles first recording, but their first on Florence Greenburg's fledgling Scepter label. They stayed with the label for ten years releasing some thirty eight singles. The song was originally released by the 5 Royals on King in 1957, and while the 5 Royals version is a great record it is very much a record of its era a Doo-wop all time great in fact; yet The Shirelles version is already part of a new sound, and a new generation was picking up on it.
Written by Royals member, singer, Lowman Pauling and producer Ralph Bass, the song has been covered may times since, 'blue-eyed' soul group The O'Kaysions cut a version a decade later in 1968 (see below) and The Temprees managed to get their cover into the Top 100 in 1972.
N.B. The above is not a Demo. or Promo., but Scepter's first label design.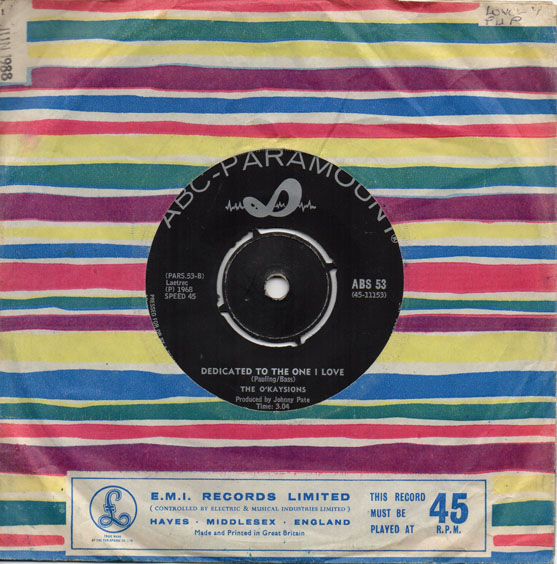 DEDICATED TO THE ONE I LOVE * THE O'KAYSIONS * ABC-PARAMOUNT 53 * SA
See also:
---