---
1954
MAMBO BABY * RUTH BROWN AND HER RHYTHMAKERS * ATLANTIC 1044 * USA
The ethno-musicologist Isabelle Leymarie has written a brief history of the Mambo, which charts its development from the mid 19th century, to the craze that swept America and Europe a hundred years later. In the US at the height of its popularity in 1954 Rosmary Clooney hit with Mambo Italiano, as did Perry Como with Papa Loves Mambo, and Vaughn Monroe with They Were Doin' The Mambo. Rosmary Clooney also hit with Mambo Italiano in Britain that same year; as Blighty was (and still is) a little behind the States. The dance was still creating chart toppers the following year Dean Martin sang his way there with Mambo Italiano (probably more authentic than Miss Clooney's version) and Bill Haley and his Comets hit with Mambo Rock. Incidentally Bill Haley first gave The Mambo a passing mention in his 1954 cut Dim, Dim The Lights (See below) the following year he came out fully Mamboing with Mambo Rock, but by 1956 he was ready to diss the craze in his recording Don't Knock The Rock (see below) saying "You can knock mambo or dozy doe Say what you want about any of those, but, Don't knock the rock (Don't knock the rock)".
In the R&B genre one of the first 'Mambo' records to be noticed in 1954 was Perdido Mambo by Larry Liggett issued on Chess 1558 in January 1954. It was slow to catch on but by April that year Alfredito had a cut Chop Suey Mambo, out on Rainbow 243, and in May Sweet Sue Mambo by Chris Powell, on Grand 108, was getting played. Johnny Otis was on the Mambo train in July when Savoy released his Mambo double sider Mambo Boogie coupled with Mambo Blues on # 1132, others on board that month were Earl Bostic with Mambolino on King # 4723, and Choker Campbell (yes the same Motown Choker Campbell) with Jackie Mambo on Atlantic # 1083. In August Earl Bostic was back with Mambostic on King 4730 (I did a top lithograph print of this record while I was at art school) Apollo released Tiny Grimes Showboat Mambo on # 823, Charlie Ferguson put out Hi-Beam Mambo on Timely #1008, and not to miss out, Mercury had Joe Liggins cutting it with They Were Doin The Mambo # 70440.
Just picture it hot steamy August nights, the records playing and all those beautiful girls dancing the Mambo swaying their bodies and wiggling their, err, hips, all across the land, in dances, dives, clubs, bars, party's and even in the privacy of their own bedrooms, the mambo was the craze and they were doing it. By October when, backed by The Cues (Her Rhythmakers), Ruth Brown had Mambo Baby released, things had begun to cool down weather-wise but not Mambo-wise; Chess managed to squeeze out another Larry Liggett Mambo, Mama Yo Quiero Mambo #1578, and Spark released Loop De Loop Mambo by the Robins # 107, while Federal, a bit late in the game released, on 12196, Mambo Mexicano Parts 1&2, and Claude Cloud was in didactic mambo mode with Beginer's Mambo on MGM 11847. In November The Charmers had the no frills The Mambo out on Timley 1009, The Platters (before they hit the big time) sang Shake It Up Mambo on Federal 12198, Oscar Saldand was after keeping those hips shaking with Mambo Hop on R&B 1302, and just maybe the Cookies were doing just that through those cold winter nights with All Night Long Mambo out on Lamp 8008. Finally for Christmas Mamboing there was Walter Fuller with his Pecan Mambo on Kicks # 4, The Charms on DeLuxe 6072 with Mambo Sh-Mambo, and Wynonie Harris singing All She Want's To Do Is Mambo King 4736 (didn't a group do that as well?). Phew all that Mamboing and hip swinging has exhausted me I think I'm going to have to lay down and rest ..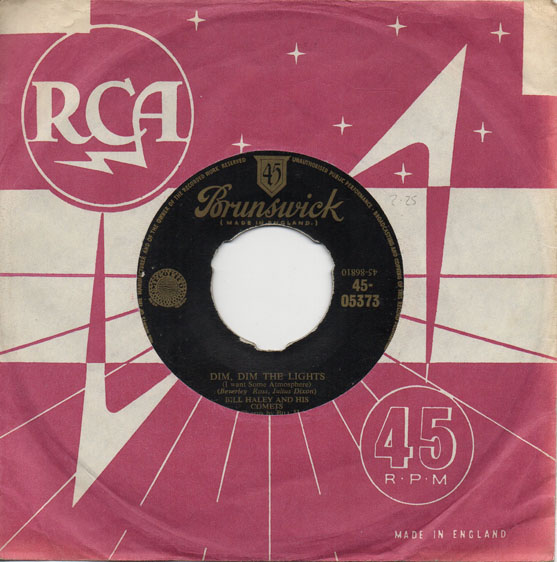 DIM, DIM THE LIGHTS * BILL HALEY AND HIS COMETS * BRUNSWICK 05373 * UK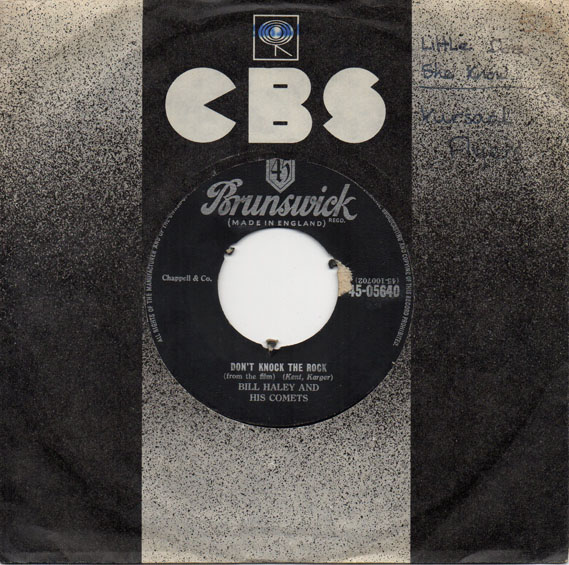 DON'T KNOCK THE ROCK * BILL HALEY AND HIS COMETS * BRUNSWICK 05640* UK
See also:
---