---
1955
THE WALLFLOWER * ETTA JAMES & THE PEACHES * SUE 359 * GB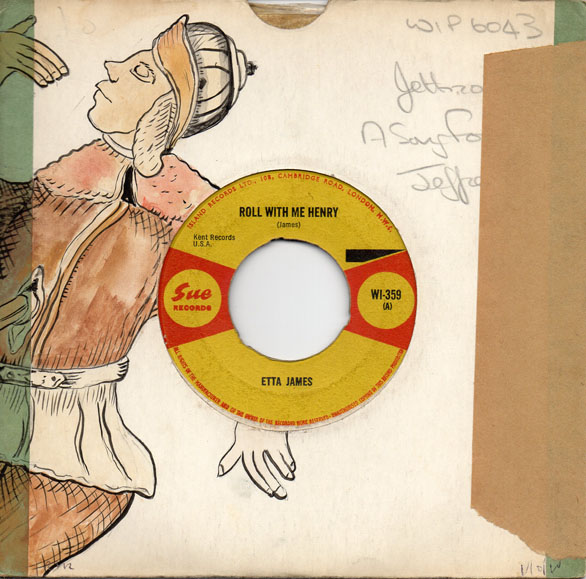 Etta James, her other name is Jamesetta Hawkins, got her break after an impromptu audition for Johnny Otis at the back of San Francisco's Fillmore Auditorium, who was always looking out for new young talent. The Wallflower which was re-titled Roll With Me Henry, and Dance With Me Henry, to disguise the risqué lyrics, was her 'answer' record to Hank Ballard's Work With Me Annie.
Etta has always been a fiery singer whose songs, fast or slow, pack a punch, is firing on all cylinders with this cut; aided by Richard Berry she sets up a call and response with him, her somewhat reluctant partner, to 'get it together' whether that's on the dance floor or somewhere else is for the listener to decide.
After singing and touring with Johnny Otis, and Modern records Etta became infatuated with Harvey Fuqua of the Moonglows, who was A&R man at Chess. She left the West Coast and travelled to Chicago, where Harvey got her a deal at with the Chess brothers, and although it's said Harvey, an older man, was unaware of Etta's feelings toward him, she recorded a number of passionate songs, for Chess subsidiary Argo, with him in mind.
Recorded in Los Angeles 25th November 1954 and originally issued on Modern 947 backed with Hold Me, Squeeze Me and released in the UK backed with a later track Good Rockin' Daddy, to an entirely different generation a decade later circa 1965,
The musicians were: Don Johnson, trumpet; Jim Wynn, bass guitar; Devonia Williams, piano; Chuck Norris, guitar; Chuck Hamilton, bass; Leard Bell, drums; Maxwell Davis, tenor sax; Big Jim Wynn, baritone sax; Johnny Otis, vibraphone and Abbye & Jean Mitchell, vocals, as The Peaches.
This picture is from the British Chess album Etta James Rocks The House issued in 1965. The photographs of Etta with a bandage around her wrist has always troubled and fascinated me, it struck me, even on first sighting, that it was a very unusual to see an artist in that somewhat mundane condition. Usually artists would be presented, especially then, as somehow immaculate, stylized, if not out and out idealized. Blemishes and or any 'imperfections' were either covered up, hidden or airbrushed out of existence, to see a recording star on an album cover so obviously human and even vulnerable, had me groping in my mind for equilibrium. It would have been so easy to disguise, or to just use another photo shot from a different angle, that I couldn't deiced weather it was just a careless oversight, a new paradigm in LP art, or a storm in my teacup. Of course I turned to the sleeve notes for some help, thinking that such a radical image would come with some explanation, not a bit of it, it does say that the venue was the New Era Club, Nashville, Tennessee on September 27 & 28, 1963, the rest remains a mystery and an anomaly.
---