---
1969
THE GHETTO * DONNY HATHAWAY * ATCO 226010 * UK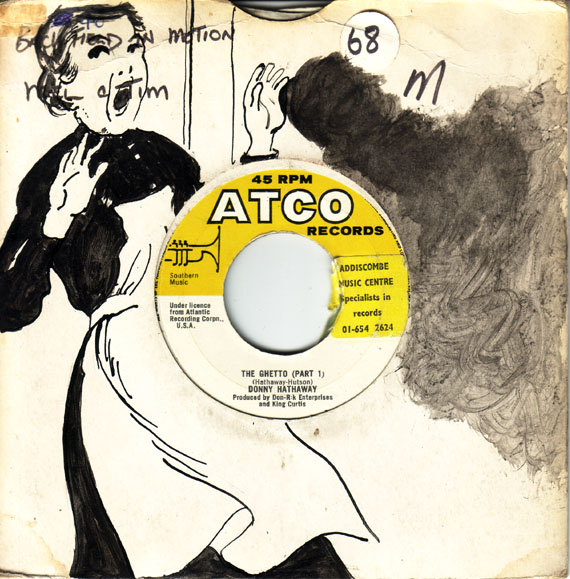 This record was one of those tracks that every so often appear on the scene and seem to announce a shift in the sound and style of a particular musical genre. They don't necessarily have to be the first just the one that hits the moment right; maybe it's that the previous sound has become a little dated and folk are ready for a change or it might be that the lyrics contain some words or ideas that belong to the moment, or whatever. The Ghetto was written by Donny Hathaway and Leroy Hutson - whom he had previously worked with while working as a producer and arranger at Curtis Mayfield's Curtom label- and though it has some vocals I always think of it as an instrumental.
Although it was released in late 1969 The Ghetto was very much a sound that belonged to the 1970s, it was new sound, cool and sophisticated, hypnotic with repetitive lyrics that was to become so much part of the sound of Soul - and other forms of music - for decades to come, it delivered social comment in a detached yet serious way, this, then, was the sound of the future.
Quite a start for an artists first solo recording, Donny Hathaway had signed to Atco in 1969 and The Ghetto Parts 1&2 was his first release, he went on to record many albums (the 1970s was the era of the albums for the majors like Atco) until his tragic death, attributed as suicide, in 1979 aged only 33.
---