---
1957
JOHNNY'S HOUSE PARTY PART 1* JIMMY BEASLEY AND THE ROCKERS * TOP RANK * JA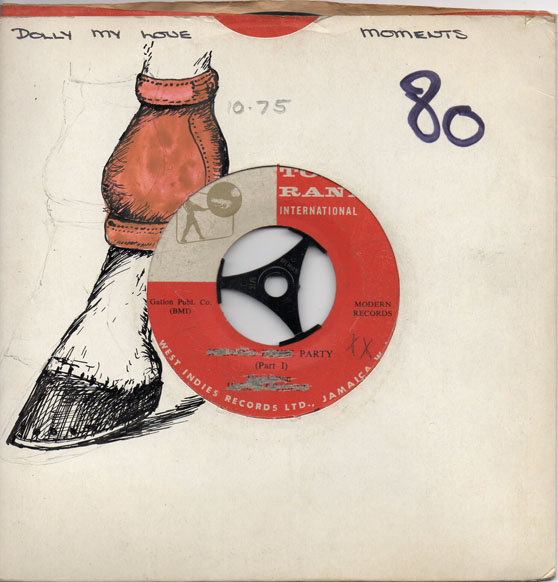 Originally recorded in the USA by Johnny Heartsman on Music City, and covered on Modern Records by Kansas City pianist Jimmy Beasley with a constructed live sound from a studio, Johnny's House Party Part 1 and 2, a Bluesy mid-tempo R&B instrumental. As is evidenced by this official Jamaican Top Rank release, this was just the sort of record that appealed to Jamaican dancers, and, at the time, was being played alongside of the nascent R&B shuffle sound that was being produced by the likes of Coxsone Dodd and Kenneth Lloyd "Ken" Khouri.
Originally issued in the USA on Modern Records # 1021 (see below) House Party was Beasley's sixth of seven 45s for the label.
N.B. It would seem this record could have been previously owned by a DJ who had scratched out crucial information on the label so as to make it unidentifiable by potential rivals, leaving only the word 'Party', giving, perhaps a clue to the selector as to when the disc was best played.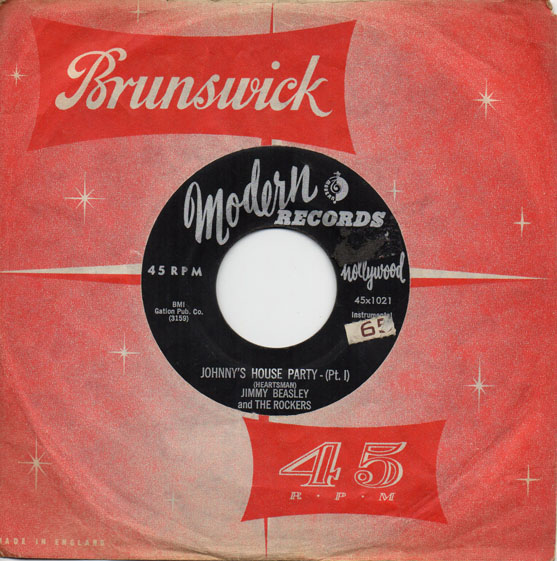 JOHNNY'S HOUSE PARTY - (Pt. 1) * JIMMY BEASLEY AND THE ROCKERS * MODERN 1021 * USA
---