---
1952
JUMPIN' WITH SYMPHONY SID * KING PLEASURE * ESQUIRE 187 * UK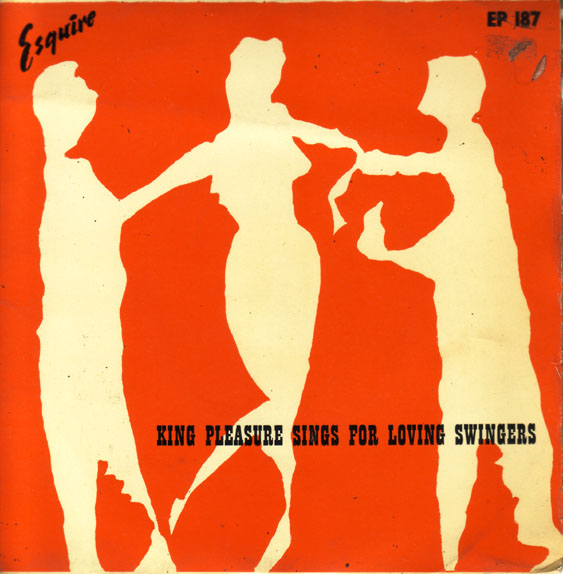 Clarence Beeks called himself King Pleasure because, as he said, he likes to spread pleasure, well this track as certainly given me pleasure over the years. Ira Gitler writes about this track on the back cover. "Jumpin' With Symphony Sid is Pleasure's interpretation of Lester Young's composition which served as disc jockey Symphony Sid's theme when he broadcast from New York. Sid, now in Boston, uses Pleasure's recording as his theme. Unlike his other works, the King puts words only to the melody line and not to Pres' solo. Charlie Ferguson on tenor and Ed, Lewis on trumpet contribute solos in keeping with the mood." Jumpin' With Symphony Sid's relationship to Dee-Jaying is interesting not only in how it tautologically became what it sought to venerate, but also in the context of Jamaican Dee Jay's, as what King Pleasure does on this cut is possibly the first recorded example of exactly what those West Indian Dee jay's were to do over Ska tracks on record over a decade later; in fact this could be the very first example of Dee Jaying as such.
Additional text supplied by Bill Kealy.
Hi Johnny:
As a serious King Pleasure fan (I have all his cuts and used to be a "vocalmentals" singer in another life), I was drawn to the posting on "Jumpin' with Symphony Sid." Sid Torin was a DJ in the 1950's at WJAZ (which later became WABC) in New York City. He was one of the few that championed bebop and other avant garde jazz forms that received little airplay elsewhere. Hence, the Lester Young tribute that was later sung by King Pleasure. In the 60's Torin went totally Latin, but briefly returned to do his old jazz radio show in the early 70's.
As you pointed out, this was one of the few instances where Pleasure sang the melody versus the jazz improvisation line. Even here, however, he shows his clever use of lyrics when he sings something about the dial being "set close to eighty" (WABC's radio frequency was 77 khz). Incidentally, King Pleasure referred to his philosophy of spreading as "planetology." The man was way ahead of his time!
I really appreciated the link to Tiny Bradshaw's "Soft," which I've been trying to get a hold of for years. The sax solo was, of course, played by Red Prysock. Red also recorded "Handclappin'," one of my favourite instrumentals, that was the theme music for a NYC deejay, B. Mitchell Reed, when I was a teenager.

Thanks again,

Bill Kealy
Tampa, Florida
---