---
1955
AS AN EAGLE STIRRETH HER NEST * THE SOUTHERN WONDERS * PEACOCK 1751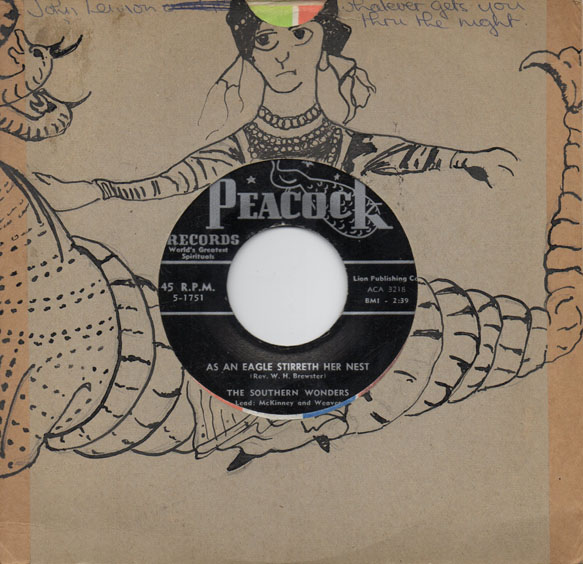 On this beautiful up-tempo Gospel recording by Memphis based group The Southern Wonders R. L. Weaver and Ernest McKinney, share the lead; they are accompanied Henry Jack Franklin-tenor; Ernest Moore-baritone; Artis Yancy-bass; L. T. Blair-guitar. The song is based on a marvelous aspect of nature, about which The Southern Wonders sing "But as an eagle Stirreth her nest So that her young ones Will have no rest", that is taken from The Bible Deuteronomy 32:11: Like an eagle that stirs up its nest, that flutters over its young, spreading out its wings, catching them, bearing them on its pinions. A beautiful concept turned into a beautiful song sung beautifully.
This comment, from Vernon Tate, was found on YouTube.
"For years my grandmother kept an 8 1/2 x 11 inch black and white picture of this group on her mantelpiece. Her favorite song was "The Eagle Stirred The Nest." What a cool quartet."
---