---
1954
GOODNIGHT, SWEETHEART, GOODNIGHT * THE SPANIELS * CHARLEY 1077 * UK
Originally released on Vee Jay 107, it was The Spaniels third release for the label; which itself had come into being as a result of record shop owners Vivian and James Bracken hearing the group sing and deciding to set up a label to release a song The Spaniels had played to them as a demo. The song Baby It's You was eventually released a the second issue on Vee Jay # 101, the first was Jimmy Reed with High And Lonesome.
The name Vee Jay corresponds to the Bracken's first name initials, they were originally located in Gary, Indiana, as were all the members of The Spaniels, at 1640 Broadway, but moved to 1155 East 47th Street Chicago in 1953.
Goodnight, Sweetheart, Goodnight became an instant success, and despite being covered by the McGuire Sisters for the Pop market effectively stealing considerable sales, the Spaniels version reached number five on the R&B charts. Such a beautiful vocal harmony song meant that many other Doo Wop vocal groups would include it in their repertoire at the time, including The Platters, whose Zola Taylor (pictured at the microphone) takes lead vocals on their version included on the French EP Millionieme (see below).
along with many other songs from the Doo Wop era Goodnight, Sweetheart, Goodnight has stood the test of time to become one of the most requested records on the oldies radio stations in the US.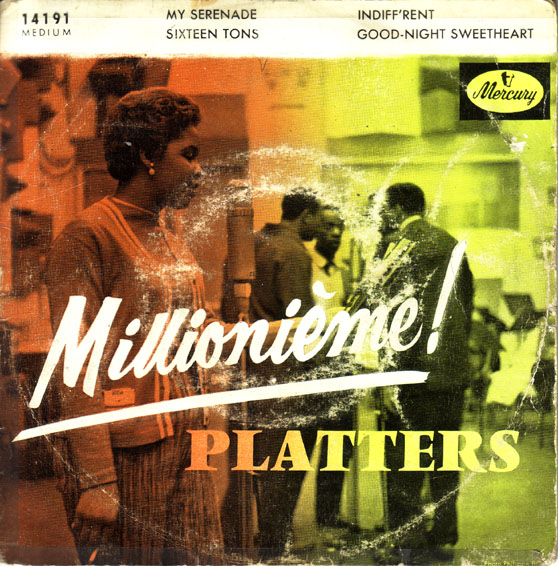 GOODNIGHT, SWEETHEART, GOODNIGHT * THE PLATTERS * MERCURY 14191 * F
---