---
1954
HEARTS OF STONE * THE JEWELS * R&B * USA
The original version of Hearts Of Stone by The Jewels (seen here on a dodgy 1970s pressing) was the groups first recording, and the first issue for Larry Goldberg and Al Schlesinger's newly formed R And B label, of 6420 Santa Monica Boulevard, Hollywood, California. Originally singing Gospel the group turned secular and record Golden Girl released as the Marbles on Lucky, another Los Angeles independent label.
Written by group member Rudy Jackson, according to Johnny Torrence, leader of the Marbles/Jewels, it was taken from a song they recorded in their gospel days, and released in September 1954 Hearts Of Stone proved to be immensely popular, so much so that two cover versions appeared soon after. Otis Williams and The Charms and The Fontane Sisters versions both scored higher on the charts than the Jewels original; The Fontane Sisters went to number 1 Pop, and The Charms got number 1 on the R&B charts.
The Jewels (not to be confused with the girl group of the same name) were unreleased in GB until the incredibly good compilation series compiled by Steve La Verne was issued by Liberty in the 1960s, when two of their Imperial recordings Keep Your Feet On The Floor (previously unissued) and Please Return the flip of Natural Natural Ditty (which is the B side to the above platter) were to be found on the Rhythm 'N' Blues, The End Of An Era album.
Hearts Of Stone was also cut as an instrumental by Bill Black's Combo in 1961 (see below).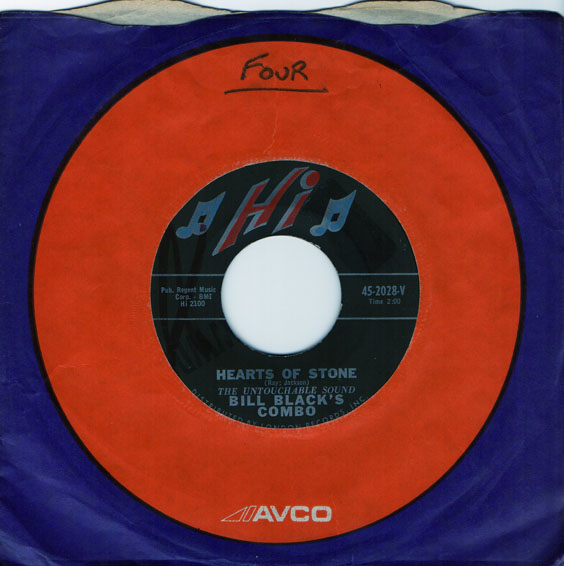 HEARTS OF STONE * BILL BLACK'S COMBO * HI 2028 * USA
See also:
A Fool In Paradise
---