---
1953
I'LL CRY NO MORE * THE CRICKETS * JAY-DEE 691 * USA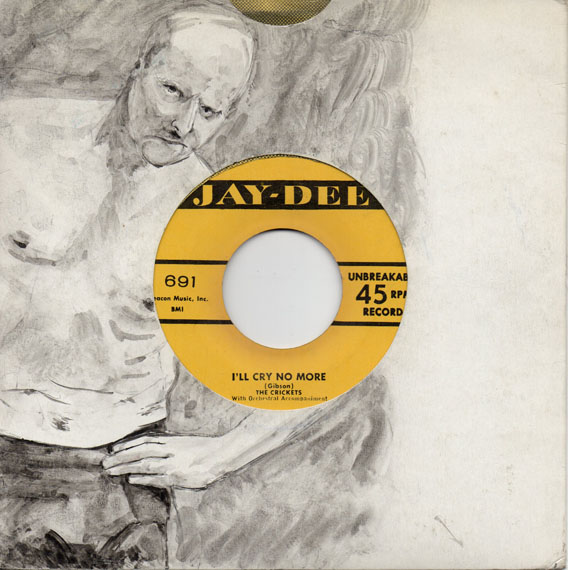 Originally released on MGM 11507 in May 1953, I'll Cry No More is the B side of the groups second release. The Crickets: Grover Barlow, Harold Johnson, Eugene Stapleton, Leon Carter and Rodney Jackson, were all from the Bronx area of New York, the quintet formed together as a group in 1951.
After hearing the group audition for him Joe Davis, owner of Davis records, took the group to MGM and secured a recording contract for them and a job for himself in the bargain. I'll Cry No More was never actually released on Joe Davis' Jay-Dee imprint the above is a modern day pressing that just pretends it was on Jay-Dee (complete with fake catalogue number) presumably because they could not use the MGM logo; The Crickets did however have six other releases on Jay-Dee and one on Beacon, another Joe Davis imprint.
According to Jay Warner the A side of this record For You I Have Eyes is considered by collectors as the groups finest, yet I prefer I'll Cry No More perhaps it's the sentiments that win out for me, as both sides exemplify the beautiful voice of lead singer Grover Barlow.
As a example of just how different, and dare I say it progressive, the culture of America was in the 1950s it is interesting to note that Grover Barlow honed his singing skills when he would sing with a group that entertained their fellow students over the loud speaker system before classes at the high school he attended in Detroit! Something unimaginable in a British school in the late 1940s.
N.B. It is also worth pointing out that The Crickets is not the same group that sang Oh Boy and others with Buddy Holly, who used the name some four years after the above group coined it.
---