---
1952
KEEP IT A SECRET * FIVE CROWNS * RAINBOW 2002 * USA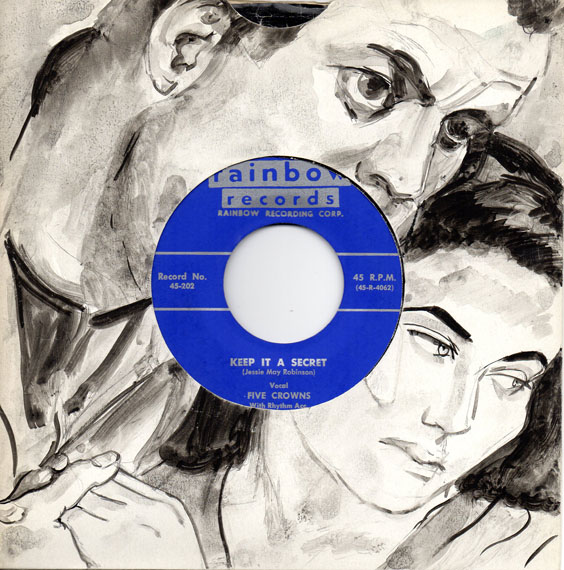 Five teens: Wibur 'Yunkie' Paul; Doc Green; three Clark brothers; James 'Poppa', Claudie 'Nicky', and John 'Sonny Boy', all from Harlem, started singing as a group in 1952. They signed to 156 West 44th Street New York city based Rainbow Records label that same year, a label that was dominated by 'old time music' artist Eddie 'Piano' Miller.
Their first record, a minor hit in New York and Philly, Your My Inspiration was released in October 1952, followed one month later by Who Can Be True then in December by Keep It A Secret a sweet period ballad with a mellow sax break.
The Five Crowns had one more release on Rainbow then after a dispute with label boss Eddie Heller they moved to Old Town. Then in 1955 after two releases for Old Town they were back recording for Heller this time for his Rivera imprint.
After the Rivera release the group disbanded and it was Doc Pomus who kept the name alive with a new line up, including Elsbeary Hobbs, Wilbur Paul, Jessie Facing and Benjamin Nelson (aka Ben E. King), and it was this group that was to become The Drifters
---