---
1959
THERE GOES MY BABY * THE DRIFTERS * LONDON 8892 * UK
This is the first release under the name of The Drifters, of the group previously known as the Crowns, consisting of Ben E King, Charles Thomas, Doc Green, and Ellsbury Hobbs, with King Curtis playing the Saxophone. It was one of the biggest hits of 1959.
In the United States There Goes My Baby was the sound of the last summer of the closing decade, and could be heard on every radio, black and white, and every juke box across the country, yet it was very nearly never even pressed as a demo. In an interview in Fusion 39, from August 1970, reproduced in Bill Millar's excellent, and pioneering, book on The Drifters, Jerry Leiber, producer and arranger, along with Mike Stoller, is quoted as saying about the session There Goes My Baby was taken from; "And the date was considered a fiasco. I mean everybody thought it was just a waste, a terrible waste of time and money. And we took the playbacks to Atlantic one afternoon to play them for Ahmet, and Jerry and we were playing the tapes back and we were all grieving and we were saying 'oh, there's nothing salvageable about this' - and then we played this one side and I said and Mike' said 'there's something fascinating about it - you know it's a fucking mess. But there's something very magnetic about it.' And Jerry Wexler was eating his lunch on his desk and he said 'Man, get the fuck out of here with that.' You know - 'get out of here with that - I hate it', you know - 'It's out of tune and it's phony and it's shit and get it out of here"!
The record was eventually released in the US on Atlantic 2025, 24 April 1959, backed with Oh My Love; and two months later in the UK firstly as a 'Tri' center and later with a 'round' center (see below).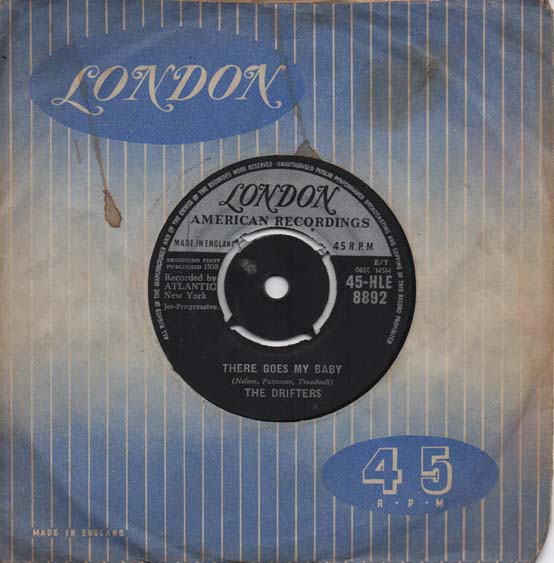 THERE GOES MY BABY * THE DRIFTERS * LONDON 8892 * UK
See also:
---