---
1960
THIS MAGIC MOMENT * THE DRIFTERS * ATLANTIC 2050 * USA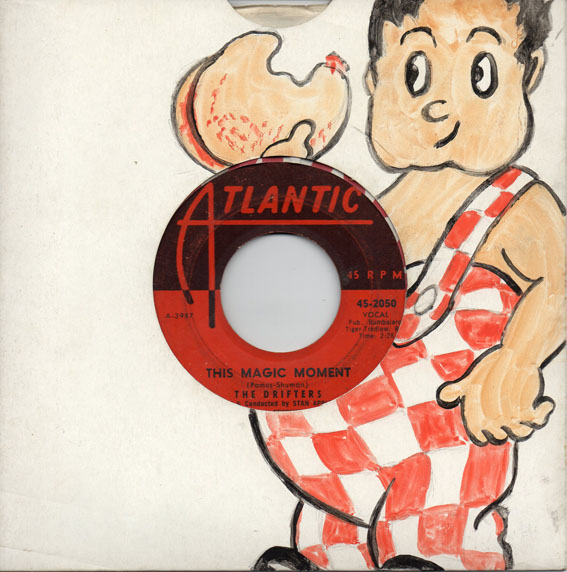 Full of passion and with what comes across as an overarching desire to capture, hold and live within the magical moment (a sentiment that I can empathies with) Ben E. King sings lead on this Pomus/Shuman crafted love song This Magic Moment it was recorded in New York City Dec 23, 1959 and released on January 28th 1960 (March 1960 UK) in what has been a largely overlooked golden period c1959 -c1962 when DooWop and R&B became Soul.
The session produced three tracks This Magic Moment, Lonely Winds and an unreleased track Temptation; The Drifters were: Billy Davis (guitar) Ben E. King as Benjamin Nelson (lead tenor vocals) Charlie Thomas, Johnny Williams (tenor vocals) Doc Green (baritone vocals) Elsbeary Hobbs (bass vocals).
Not the most covered of Drifters records This Magic Moment was however covered by 'Lorenzo', who, it would seem, maybe thought he could get away with paying royalties by spelling the word 'Magic' in a novel way! (see below).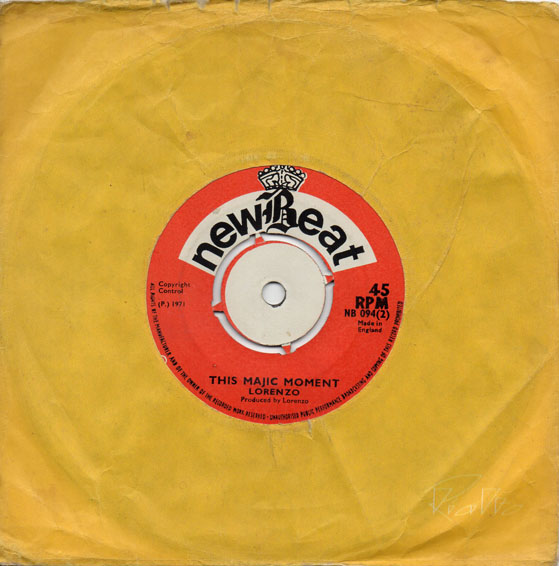 THIS MAGIC MOMENT * LORENZO * NEW BEAT 094 * UK
See also:
| | | | | |
| --- | --- | --- | --- | --- |
| | | | | |
| Answer The Phone | Heís Just A playboy | I Count The Tears | I Donít Want To Go On Without You | I Feel Good All Over |
| | | | | |
| I'll Take You Home | Lonely Winds | Mexican Divorce | Nobody But Me | On Broadway |
| | | | | |
| One Way Love | Room Full Of Tears | Rat Race | Please Stay | Sweets For My Sweet |
| | | | | |
| Somebody New Danciní With You | Some Kind of Wonderful | Under The Boardwalk | Up In The Streets Of Harlem | Up On The Roof |
| | | | | |
| Vaya Con Dios | When My Little Girl Is Smiling | Adorable | Bip Bam | Drip-Drop |
| | | | | |
| Dance With Me | Honey Love | I Gotta Get Myself A Woman | Money Honey | Ruby Baby |
| | | | | |
| There Goes My Baby | White Christmas | Soldier Of Fortune | Like Sister And Brother | Oh My Love |
---