---
1965
RINGO * THE SKATALITES * TUNEICO * JA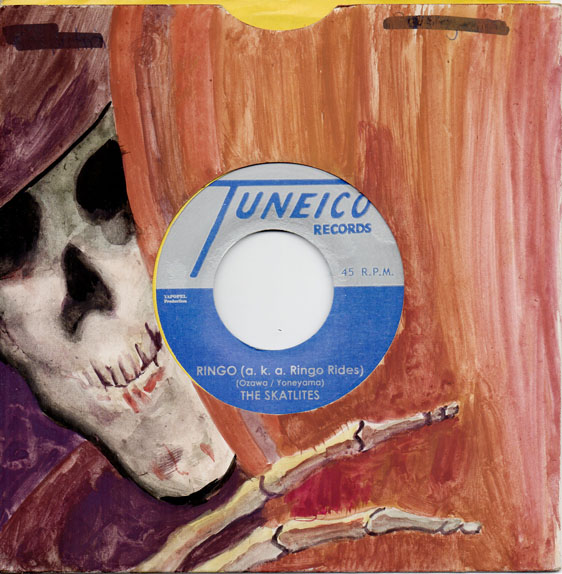 Another great Ska track from Justin 'Philip' Yap's Top Deck productions (seen here on a blue vynal reissue) on which, led by the fabulous reverberations of Lloyd Brevett's upright bass, various members of the horn section of The Skatalites blow outstanding solos.
Although in Jamaica at the time of its release the song was referred to as Ringo Rides due to the galloping horse on the introduction, I, and possibly many others, always thought the actual title Ringo was a reference to one Ringo Starr of The Beatles fame, when in fact it refers to a popular Japanese song Ringo Oiwake. This was revealed in a post on utube by hanasakura88 where he writes:
This melody "Ringo Oiwake" is one of most popular Misora Hibari's songs in Japan; it means "Apple blossomís memory".
A woman remembers her hometown, Tsugaru, Aomori, the northern area of Japan. She felt her mother's memory like apple flower's smell, blossom fly by warm wind under the moon lights. She cried because when she was young she must came to town to work far away from home, and work very hard. She never go back home, her family is too poor to live together as a small apple farmer.
See also:
---