---
1968
54-46 THAT'S MY NUMBER * THE MAYTALS * PYRAMID 6030 * UK
It's well known that Frederick 'Toots' Hibbert, lead singer with The Maytals, was arrested for smoking and possessing ganja towards the end of 1966 and was given 18 months for it, although he claims it was all due to him being a Rasta, and that 54-46 was his number while he was in the boob.
This is the groups first release for Leslie Kong, and because Nathaniel 'Jerry' Mathias and Raleigh Gordon, the other members of the group, did the decent thing and waited for him to get out before going back into the studio, it is The Maytals first since 'Toots' got his bit of bird.
Although 'Versions' or 'Dub' sides didn't exist at the time The Maytals cut 54-46, but six years later a 'Version' of the original track, credited to 'Internationals', was issued as the B side to I Can't Believe Warrick Lynn's Starapple imprint (see Below)
54-46 That's My Number on Pyramid was pressed with both 'four' and 'three' pronged centers (see below) but with every other detail the same.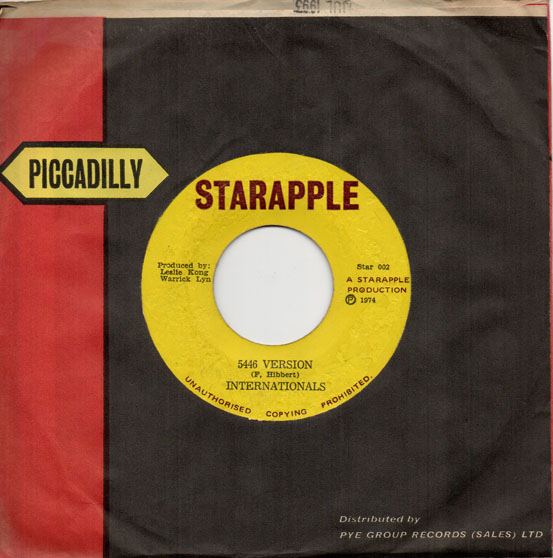 5446 VERSION * INTERNATIONALS * STARAPPLE * JA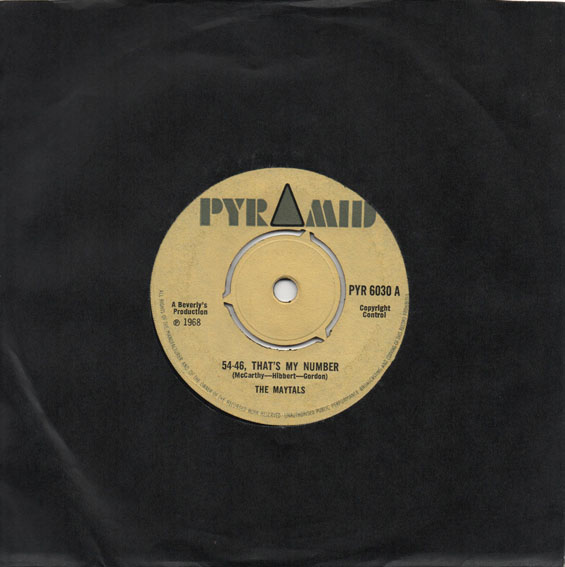 54-46 THAT'S MY NUMBER * THE MAYTALS * PYRAMID 6030 * UK
See also:
---