Click on the image to listen.
---
1968
FOO MANCHU * DESMOND DEKKER & THE ACES * PYRAMID 6052 * GB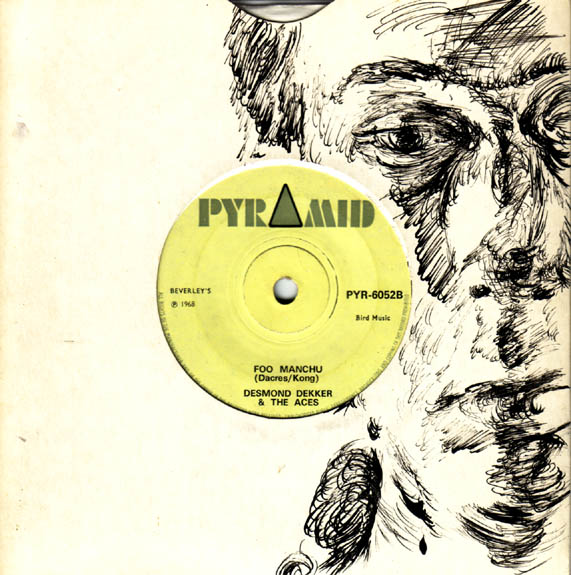 The second issue of this top sound from Desmond Dekker and surprisingly it was a B side on both issues! This is another Leslie Kong production and is a foretaste of some of the music that was to come from producers like Lee Perry. Desmond Dekker entered the music business in 1963 through one of the most popular and inaccessible (he rarely took on new talent) producers of the time Leslie Kong, by literally pushing himself into Kong's studio and insisting he hear him sing. Kong gave the young man the chance and Dekker, backed by Kong's resident keyboard player at the time, Theophilus Beckford, sang a composition of his own, Honor Your Father And Your Mother, legend has it Kong and Beckford were so impressed they made him sing the song several times. Backed by another Dekker composition Madge, the record was issued on Kong's Beverlys label and became a big hit in Jamaica, it was also issued on the fledgling Island label in Great Britain, Dekker stayed with Kong recording Ska and Rock Steady, and 'Rude Boy' tracks, like 007, and Music Like Dirt, but it was another Rude Boy track, Israelites that was to give him his biggest successes, being the first ever gold record in Jamaica, and a hit in Britain, Europe and America. It was these records issued on the newly launched Pyramid label that helped make Desmond Dekker and His Aces a key figure for the burgeoning British youth movement the Skinheads, who being mostly poor working class could identify with the sentiments of a fellow sufferer in his songs as in the opening chorus of Israelites: "Get up in the morning slaving for bread, sir, so that every mouth can be fed".
---