---
1969
THE WORLD NEEDS LOVING VERSION 2 * DYNAMITES * CLANDISC BLANK * UK
An organ led Early Reggae instrumental is a version of The World Needs Loving by Clancy Eccles which can be found on Clandisc 201, some of the vocals can be just heard in the background. This is the B side of Credit Squeeze by Clancy Eccles, on a different rhythm, which was also released on Clandisc 227 and Trojan 7815 (see below). For those who are interested in the minutia of these things, this record is something of an oddity, being that it has an open center found on Jamaican issues, yet has the ring of small ridges on between the label and the dead wax (to stop the records slipping against one another when played in a stack) found only on UK issues. Furthermore the master number in the dead wax is stamped, usually indicating a British issue, the number is CE + 4 + A and B, this would possibly suggests a Clancy Eccles issue on the Clandisc label UK but no such Master's exist on those issues.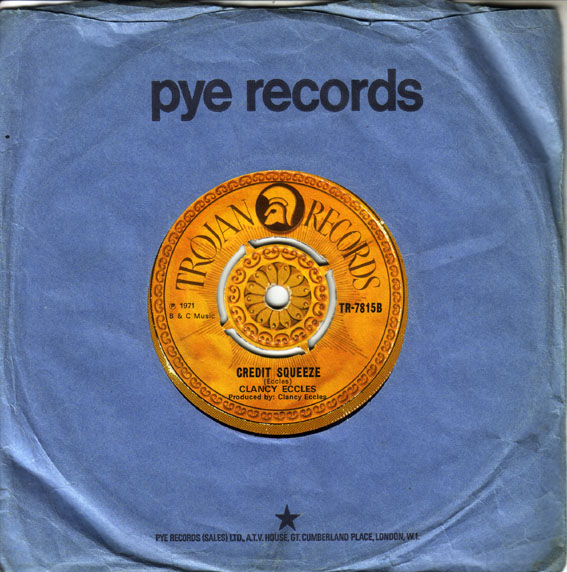 CREDIT SQUEEZE * CLANCY ECCLES * TROJAN 7815 * UK
For a long time The World Needs Loving Version 2 was unknown to me: Update 15/1/2011. Thanks to David Diamant from Barcelona in Spain for the updates (below) that helped me rewrite the above text.
CE+4+A/B is indeed a Clancy Eccles UK blank. Credits I have for it are Clancy Eccles - Credit Squeeze (AKA Time Dread) // Clancy's All Stars - The World Needs Loving Version 2. In fact if you look at the matrix of TR7815B you'll see it was scratched out.
I also have CE+1+A/B, so CE+2 and CE+3 probably exist as well.

---