---
1964
COME SEE ABOUT ME * THE SUPREMES * STATESIDE 376 * UK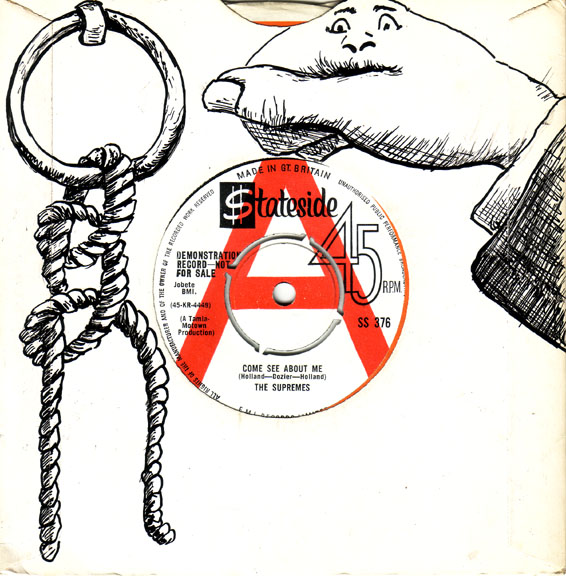 From their seventh Tamla / Motown release (When The Lovelight Starts Shining Through His Eyes) The Supremes were fortunate enough to have Holland, Dozier and Holland assigned to them as song writers; some say this was in part due to Diana Ross' affair with Brian Holland. Released in the UK in January 1965 Come See About Me was the fifth H-D-H song by The Supremes, and although at the time they were still just about an 'in' group it was Nella Dodd's version that was the one that was played in the dance halls where the Mods gathered.
In January 1965 things were hotting for The Supremes and Berry Gordy's Motown Records in the UK, two months later would see the launch of the Tamla/Motown imprint with a world wide hit Where Did Our Love Go by The Supremes as the first for the label. Also in January 1965 the British fan club of all things Motown, The Tamla-Motown Appreciation Society, launched their fanzine Hitsville U.S.A. The first issue contained an introduction by Dave Goodin and 20 pages of photo's and articles like: 'Christmas at Motown', a biography of Hattie Littles, 'Behind the scenes at Motown - the writers', there was also an appreciation of Irma Thomas. What was different about this publication was that there were many photo's of the fans themselves reproduced; and surprisingly few of them were Mods! The beautiful Florence Ballard was given the honor of being the first cover girl (see below) which she shares with a very pleased Clive Stone.
HITSVILLE U.S.A. * VOLUME 1 * UK * 1965
Come See About Me was covered three years later by Motown stable mates Jr. Walker & The All Stars (see below).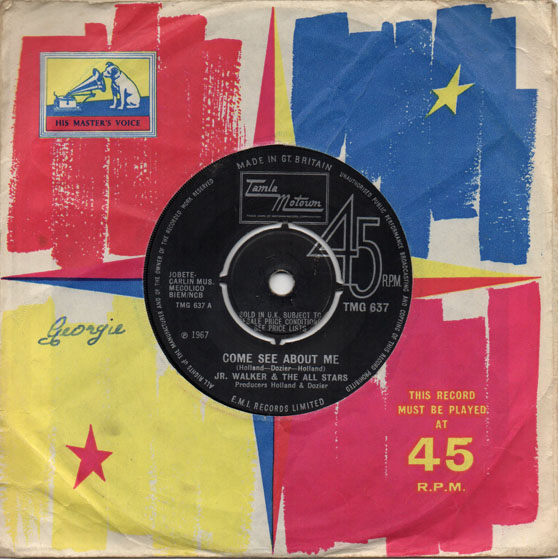 COME SEE ABOUT ME * JR. WALKER & THE ALL STARS * TAMLA MOTOWN 637 * UK
See also:
---