---
1964
DANCING IN THE STREET * MARTHA AND THE VANDELLAS * STATESIDE 345 * UK
It might be a testament to the good vibrations in this record that I always associate it with the summer, but in fact it was issued on October 9th in the UK; and back in 1964, being a new Tamla record, it would have been played in dance halls and clubs throughout the cold dark months of October, November, January and February.
The security services in the United States didn't think it was that sunny a record at all, far from it, because, as we are told, the words "'Dancing in the street" was thought, by them, to be a rallying call for Afro Americans and associated folk, to begin a civil insurrection, nothing short of a Russian style revolution.
Come to think of it, it was a rallying call in a sense because as soon as it hit the decks the opening refrain of "Calling out around the world, are you ready for a brand new beat, summer's here [ah, there's the summer hook! Ed] and the time is right for dancing in the street" the young Mods in dance halls in England would get up and dance!
Written by W. Stevenson and M. Gaye and produced by William Stevenson Dancing In The Street was a summer record in the US as it was originally released on July 31 on Gordy (see below) and is now held as some kind of anthem for Motown music.
Jackie Lee cut a version for Mirwood, which was issued in the UK in 1967 as the flip to a reissue of The Duck (see below), that I don't think was released in the US on a single.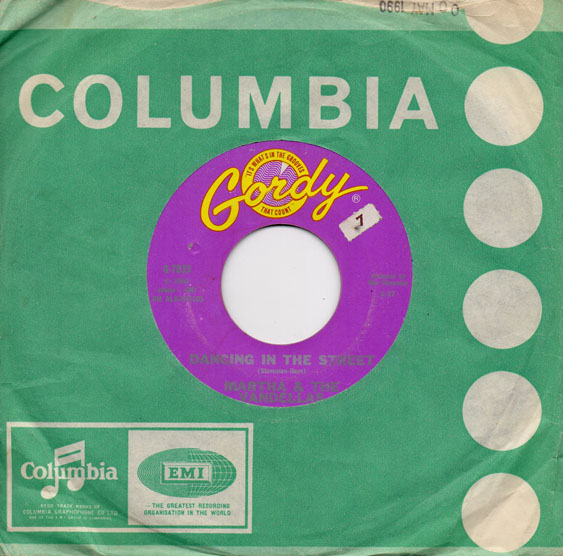 DANCING IN THE STREET * MARTHA & THE VANDELLAS * GORDY 7033 * USA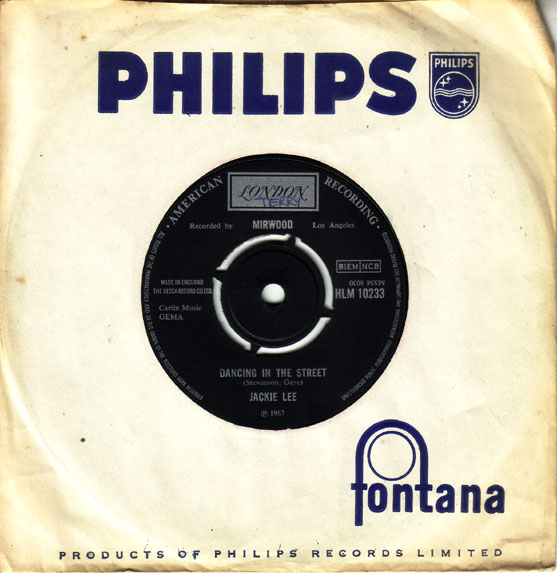 DANCING IN THE STREET * JACKIE LEE * LONDON 10233 * UK
See also:
---