---
1960
GOOD ENOUGH * BOBBY GUY * APT 25052 * USA
Good Enough, as brash, stomping scorcher was Bobby Guy's only release on the APT label; a subsidiary record label of ABC-Paramount Records, APT or Apt may mean: Alabama Public Television.
Interestingly collecting demonstration records for the Soul music fan started in the mid-1960s when it was found that the major UK record companies issued demonstration records in bright colours often with a big A on the label, which was in stark contrast to the bland black and white regular issues, and similar to the colourful labels of their American counterparts. This and the fact that Mods, who were predominantly the main collectors of the genre, were all about, to themselves at least, individuality and the seemingly unique demo copy of a record fitted in with that ethos nicely. The irony of this colour aspect to collecting Soul demo's was that American demonstration/DJ copies were often plain (as the copy above) while the regular issue was often coloured, if not multi coloured as the issue of the same record (see below).
This has caused a dilemma for some British Soul record collectors: do they prefer the regular coloured release or the coveted demo. One aspect of the demo that is always in its favour, whatever the label looks like, is that it will be one of the first pressed up from a matrix and therefore be of the best quality (sound) as far as the sharpness of grooves is concerned.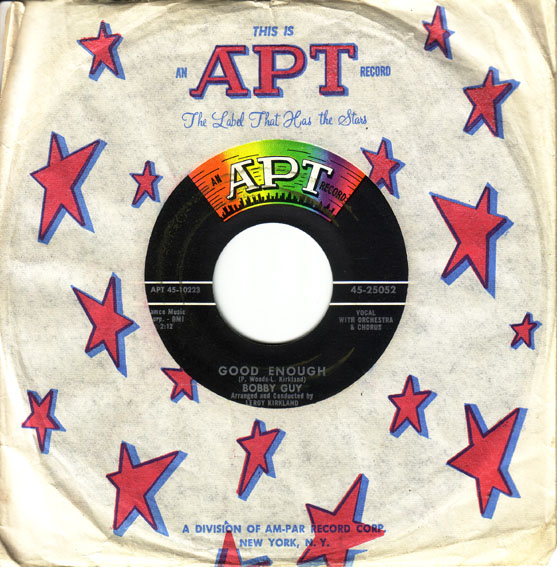 GOOD ENOUGH * BOBBY GUY * APT 25052 * USA
---