Play Wish Someone Would Care by clicking on the record.
---
1964
WISH SOMEONE WOULD CARE * IRMA THOMAS * IMPERIAL 66013 * USA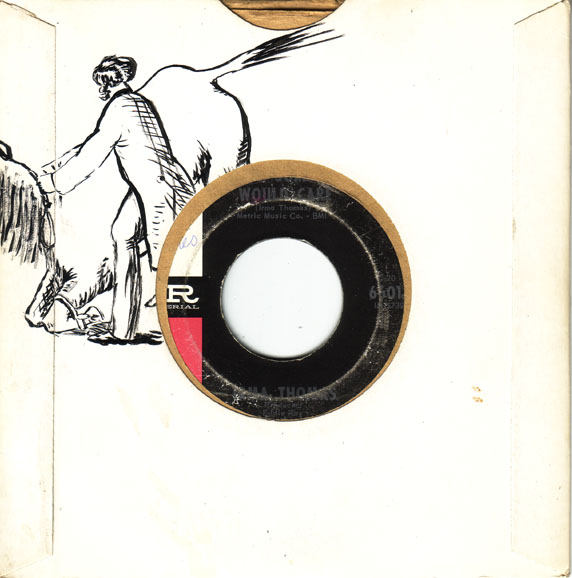 A good two sider this, many of Irma Thomas's are. She was born Irma Lee on February 18th, 1941 in Ponchatoula, Louisiana, and raised in New Orleans. Pregnant at fourteen her family made her leave school and marry the father, it was a short-lived marriage that produced two children. At seventeen she met Andrew Thomas whom she married and gave birth to two more children, it was another failed marriage although she kept the name Thomas. Her debut single for Ron records Don't Mess With My Man went to number 22 on the Billboard r&b chart in May 1960. Because of non-payment of her royalties she left Ron after one more release. She then joined Minit where most of her 1961-63 recordings were written and produced by Allen Toussaint. In 1963 Irma became an Imperial artist and her first single for them was Wish Someone Would Care coupled with Break-A-Way it was her biggest hit, reaching 17 on Billboard's pop chart in 1964. In the words of Jyrki Ilva, Wish Someone Would Care starts with a lamenting cry, which is followed by memorable autobiographical lyrics: "Sitting home alone, thinking about my past, wondering how I made it, and how long it's gonna last. Success has come to lots of them, and a failure is always there, time waits for no one, and I wish, how I wish someone would care..."
"I was really at the low point when I wrote that", she related to author Jeff Hannusch. "I was just looking back at life. I was a 14-year-old mother, I had three kids when I was 17, and I was on my second marriage. At the time, I was breaking up with my husband, because he was giving me a hard time about being on stage. It was a song from my heart, that's probably why it sold so well; I really wanted someone to care, to stand beside me and care."
---