---
1954
ROCK AROUND THE CLOCK * BILL HALEY AND THE COMETS * BRUNSWICK 9250 * UK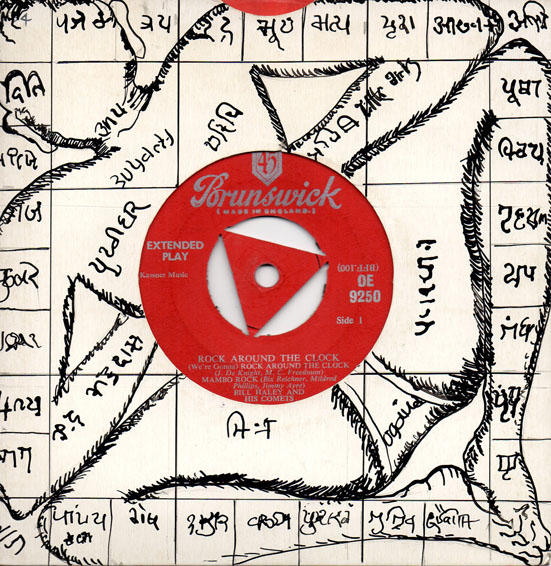 Rock Around The Clock is arguably the most iconic Rock and Roll record of the period; there were earlier recordings and, in the opinion of many, superior records but in England at least this one track by Bill Haley & The Comets was the song most associated with the phenomena that was known as Rock and Roll.
Written in in 1952 by Max C. Freedman and James E. Myers (aka Jimmy DeKnight) and, although Bill Haley had been sing the song in his live performances, it was first recorded by his friend Sonny Dae and His Knights, on 20th March 1954, Haley recorded his version almost a month later on 12th April.
Musically almost the same as his earlier Rock The Joint (Essex 303) from 1952 Rock Around The Clock is a recording full of energy and vitality with a new sound which was just what many young whites in the West were looking for to call their own.
Released in the UK on Brunswick 05317 the record hit the British charts for two weeks in January 1955, peaking at number 17, then re-entered the charts in October that year hitting the number 1 slot and staying on the chart for 17 weeks. It had a second re-entry almost a year later in September 1956 with another 11 week stay on the chart peaking at # 5, then later that year in December it re-entered the charts for a third time for two more weeks; and a fourth re-entry in January 1957 for another two weeks, then a fifth re-entry a few weeks later. It was reissued on MCA #MU 1013 in 1968 when it hit the charts again for another 11 weeks, then a second reissue in 1974 MCA #128, saw it enter the charts in March for another 10 weeks.
See also:
---