---
1934
BLUES BEFORE SUNRISE * LEROY CARR & SCRAPPER BLACKWELL* FONTANA 17051 * UK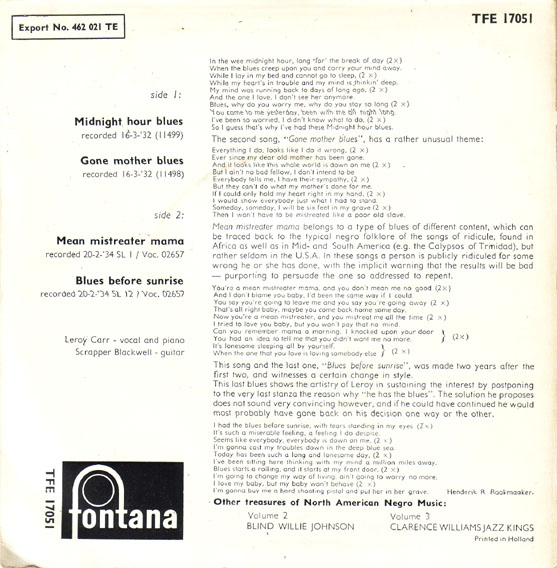 This Extended Play record was issued in 1958 and was only one of a handful of his records issued on the 45 RPM format in the UK, fortunately Blues Before Sunrise and Midnight Hour Blues (I think this adds up to a lot of Blues in the night) are two favourites of mine. The title of the EP series Treasures Of North American Negro Music, was no company puff they meant exactly what they said and produced the product accordingly. The record has a gatefold cover with a poem by Fenton Johnson and a short description of the Blues and biography of Leroy Carr by Henderik Rookmaaker printed on the inside, and lyrics printed on the back cover. In the developing political climate of language, and therefore thought, control, I can't help fearing that the day could come soon when, because of this songs last line, it could be either edited or banned, by 'common' consensus, altogether. Yet Rookmaaker perceptively points out that most probably this would never happen. "This last Blues shows the artistry of Leroy in sustaining the interest by postponing to the very last stanza the reason why 'he has the blues'. The solution he proposes does not sound very convincing however, and if he could have continued he would most probably have gone back on his decision one way or another."
I had the blues before sunrise, with tears standing in my eyes (2 X)
It's such a miserable feeling, a feeling I do despise.
Seems like everybody, everybody is down on me, (2 X)
I'm gonna cast my troubles down in the deep blue sea.
Today has been such a long and lonesome day, (2 X)
I've been sitting here thinking with my mind a million miles away.
Blues starts rolling, and it starts at my front door, (2 X)
I'm going to change my way of living, ain't going to worry no more.
I love my baby, but my baby won't behave (2 X)
I'm gonna buy me a hard shooting pistol and put her in her grave.
---