---
1959
FANNIE MAE * BUSTER BROWN * FIRE 1008 * USA
Born in 1911 harmonica player and vocalist Buster Brown cut this, his first record, when he was 50 years old! although he recorded I'm Gonna Make You Happy / War Song in 1943, it was never released at the time. Fannie Mae was a unexpected success on the Pop charts as well as being a hit on the R&B charts. Unfortunately he was unable to build on this despite a good cover of Is You Is Or Is You Aint My Baby (which was issued on the outstanding Oldies R&B LP on stateside in GB).
Buster Brown was born Cordale Georgia in 1911 and died in Brooklyn N.Y. 1976. It would seem that Buster Brown was his real name, even though as many a nefarious gambler in America during the early/mid-20th century might have told you - depending on your appearance, that "Where's Buster Brown" was the signal that crooked gamblers gave out in a 'steer joint' (crooked gambling house) for the 'bust-out man' to 'bust-in' when they need to roll 'tops' aka 'busters' or loaded dice. According to John Scarne "Gamblers call them busters because that's exactly what happens to the guy that gets in their way - he's busted".
Issued on Melodisc in 1960 with the same B side Fannie Mae was one of only three 45's by Buster Brown that were issued in the UK (see below).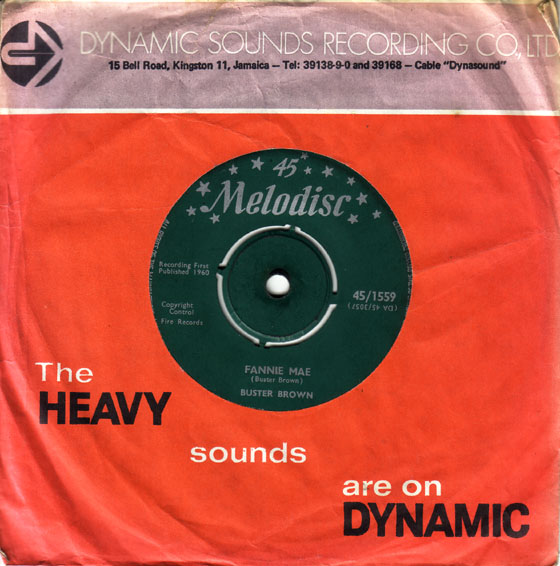 FANNIE MAE * BUSTER BROWN * MELODISC 1559 * UK
---