---
1955
MANISH BOY * MUDDY WATERS * LONDON 1060 * UK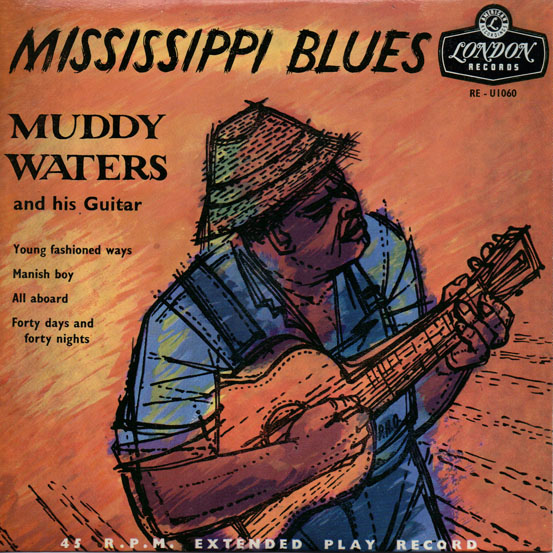 Released in the UK in 1956 this misnamed EP with a misleading image was one of only a handful of records from this prolific Blues artist to be issued on 45 under his name. A UK only issue this EP was aimed at an audience who were by-and-large led to think that the Blues man was an 'authentic' who worked (the dungarees) in the open air (the straw hat) and played the Blues out in the open field (the plough marks) on a acoustic guitar at the end of the day (the orange color) somewhere down by the Mississippi.
Nothing could be further from the truth! While Muddy Waters was in fact from Mississippi, he was born in Rolling Fork, in 1915, and did at one time play the kind of authentic so called Folk, or Country Blues, the recordings on this EP were all laid down in the big urban city of Chicago, in a studio lit by electric light, by a man wearing a suit playing an amplified guitar with a backing band consisting of harmonica, Little Walter; piano, Otis Spann; guitar, Jimmy Rodgers; bass Willie Dixon and drums Francy Clay, in fact as far away from the image projected as possible.
Considered by many to be one of the founders of modern Urban Blues, when this EP was released in the UK Muddy Waters had been singing and recording this type of Urban Blues for almost a decade. Had this EP been released in the US with this title and image it would not have appealed to the type of Blues fan that were buying his records, who knew exactly what music he was about.
Written by Bo Diddly and adapted by Muddy Waters, Manish Boy was original released in the US on Chess 1604, backed with Young Fashioned Ways, The lyrics of Manish Boy are belong to the boasting of sexual prowess genre yet the term 'manish boy' could be seen as a critical reference to how African Americans were sometimes called 'boy' as a form of insult.
See also:
---