---
1929
NOBODY KNOWS YOU WHEN YOUR DOWN AND OUT * BESSIE SMITH * PARLOPHONE 2481 * UK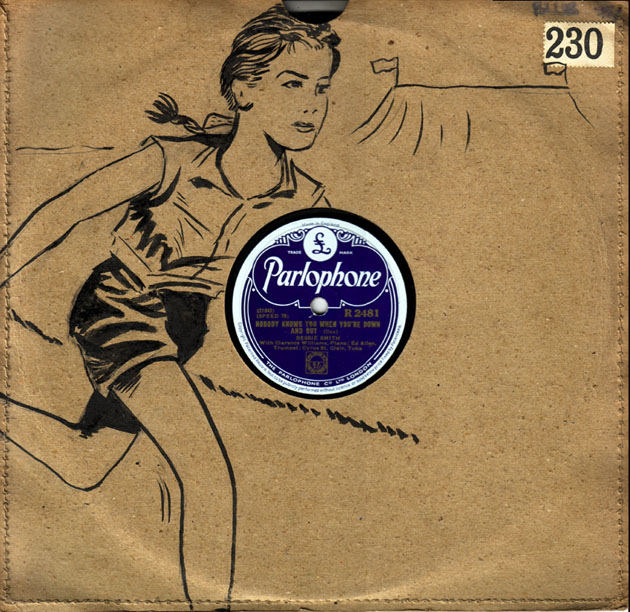 In his notes to the CBS album Any Woman's Blues Chris Albertson cites Nobody Knows You When Your Down And Out as one of the finest and most poignant recordings of Bessie Smith's career. The song could well be autobiographical (very few aren't) as at the time she recorded it her commercial career was in decline and her friends with whom she had plenty when she had money were now fading away. It was written by Jimmie Cox and recorded on May 25th 1929 with Ed Allen, cornet; Garvin Bushell, alto saxophone; Arville Harris, tenor saxophone; Clarence Williams, piano and Cyrus St. Clair, tuba, and originally released in the US on Columbia 14451-D.
The B side of this British Parlophone 78RPM is Back Water Blues and was recorded two years earlier in Feb 1927.
Nobody Knows You When Your Down And Out has been recorded countless times and in many different guises, different genres and under many different titles; in 1965 coming out of retirement Scrapper Blackwell recorded the song as Life Of A Millionaire (see below). Which again, similar to Bessie Smith, Scrapper could be singing this song as autobiography, as along with Leroy Carr, had been a million selling recording artist touring the States in the 1930s yet had since fallen on hard times and become a forgotten singer.
LIFE OF A MILLIONAIRE * SCRAPPER BLACKWELL * COLLECTOR 7 * UK
See also:
---