---
1957
ROSIE * C. B. * NIXA 1062 * UK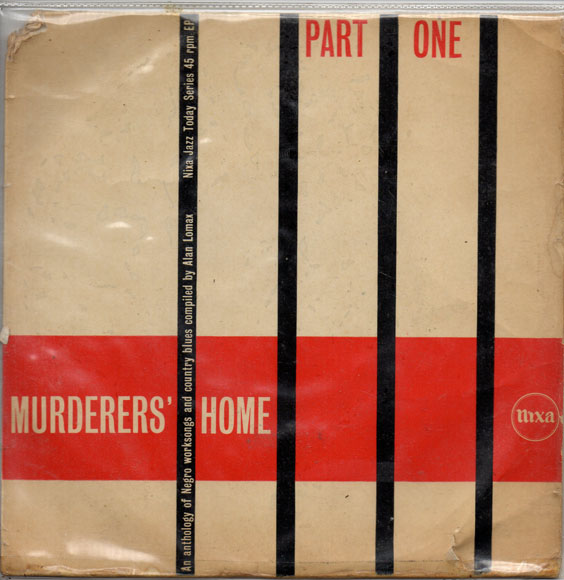 The sleeve notes to this dramatically titled EP, Murderers' Home, are not credited but the inspiration and guidance to make it happen were from Alan Lomax, who recorded the four tracks on the record in 1947 at the Mississippi State Penitentiary at Parchman a decade before its British release.
An somewhat esoteric genre of Blues music that is best left to those who know about it to be heard, so I shall quote from the sleeve notes for the track Rosie:
"Rosie, sung by "C.B." and ten others with axes, [that's real axes, not guitar's!] is the "Big Song" of the Mississippi Pen, and its melody and refrain reoccur constantly in other songs. "I seen little Rosie in my midnight dreams," they sing - and Rosie is in fact the faithful-faithless girl of the prisoner's fantasy, constant in one verse, faithless in the next, as one tormenting notion after another arrives in the singer's mind. "C.B." and his men sing in the old, drawn-out style which was dominant in the Mississippi Pen in the 1930's."
The singing is mesmeric and the Blues is palpable, it has taken me some time to really hear the quality of this recording - the 'esthetic echo' that Marcel Duchamp refers to which completes the work in the spectators mind - this could be in part due to what the sleeve notes refer to as the 'drawn-out style', a pace, or tempo, that is totally unfamiliar with the sounds of life as it is lived today.
An LP of songs was originally issued in the USA in 1957 as Negro Prison Songs, on Tradition 1020, the same LP was released in the UK on Pye Nixa.
---